Fayetteville State University ADOBE Creative Cloud Portal is LIVE!
ADOBE Creative Suite available for download!
Date: August 09, 2022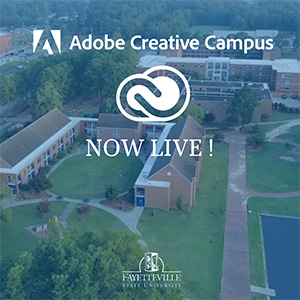 Fayetteville, NC (August 9, 2022) — Fayetteville State University is an Adobe Creative Campus, integrating digital literacy into its core curriculum and offering the creative tools to prepare students for global citizenship. FSU is partnering with ADOBE to provide the entire suite of creative tools to faculty, staff and students to strengthen the academic and teaching opportunities at FSU.
Visit uncfsu/its/ADOBE to access and download the ADOBE Creative Suite today!
For questions or assistance, visit ITS at uncfsu/its