Fayetteville State University Alum Nicholas Perkins Honored as 2022 AACSB Influential Leader
Date: February 01, 2022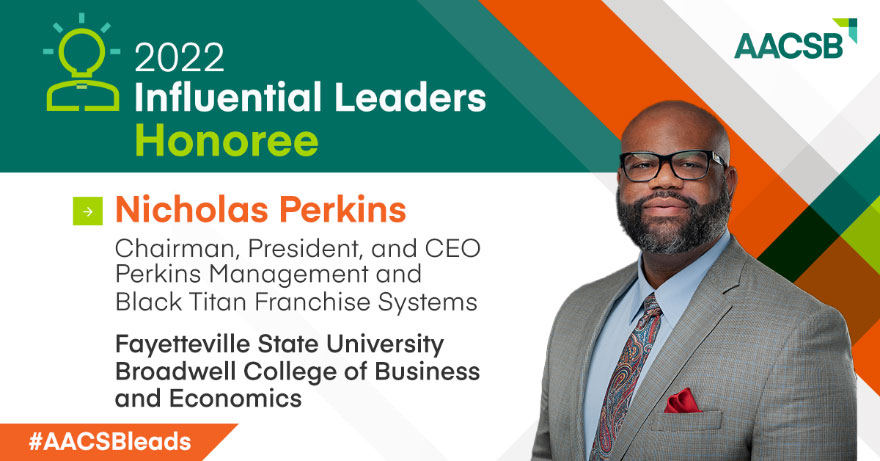 Seventh annual Influential Leaders initiative recognizes 27 champions of diversity and inclusion
Fayetteville State University Broadwell College of Business and Economics announces that alum Nicholas Perkins is one of 27 business school graduates honored by AACSB International (AACSB) - the world's largest business education alliance - as the 2022 Class of Influential Leaders. The annual initiative recognizes notable alumni from AACSB-accredited business schools whose inspiring work serves as a model for the next generation of business leaders, and this year's class features champions of diversity and inclusion.
Nicholas Perkins currently serves as Chairman, President, and CEO, Perkins Management and Black Titan Franchise Systems. Nicholas Perkins is a graduate of Fayetteville State and Howard University. In 2005, at the age of 24, Nicholas launched Perkins Management, which has grown into a multi-million dollar company with a diverse portfolio of clients. Most recently, Nicholas purchased the Fuddruckers Burger chain becoming the first African American with 100 percent ownership of a national hamburger franchise in the country. Nicholas is driven by a deep sense of purpose and responsibility to create positive change. He is clearly an inspirational role model for disadvantaged and underrepresented populations. He is driven by his desire to play an active role in the revitalization of African American communities and embraces the notion that private business enterprise can serve as an effective catalyst in building generational wealth.
"Nicholas Perkins's achievements show us there are many ways to elevate the voices and perspectives of all. He inspires us to listen, learn, and act with authenticity and courage," said Caryn Beck-Dudley, AACSB president and CEO. "It is a privilege to amplify his efforts and the entire 2022 Class of Influential Leaders."
Ulysses Taylor, Dean of the Broadwell College of Business and Economics (BCBE) said "We are extremely honored and proud of Nicholas' accomplishments and commend him for his business acumen and willingness to reinvest in community initiatives. Nicholas' success clearly reflects the quality of the BCBE's student body and signifies the level of commitment of our talented faculty and staff."
Now in its seventh year, AACSB's Influential Leaders spotlight program recognizes more than 250 business school graduates who have created lasting impact in business and society. All honorees have earned an undergraduate, graduate, or doctoral degree from one of the more than 900 AACSB-accredited business schools worldwide.
The 2022 honorees include advocates across businesses, nonprofits, academia, and governments who are educating and empowering others to create welcoming, inclusive spaces for all. Together, they represent one facet of business education's efforts to elevate diversity, equity, inclusion, and belonging (DEIB) in the workforce and society-a key feature of AACSB's 2020 business accreditation standards and the focus of a recently released positioning paper. The paper illustrates AACSB's commitment to equitable access to high-quality business education globally and calls on the business education community to embed the tenets of DEIB into its strategies and cultures.
The unique stories of each honoree, and how they are creating meaningful, lasting impact in the world, are available at www.aacsb.edu/influential-leaders.
---
About AACSB
Established in 1916, AACSB is the world's largest business education alliance, connecting educators, learners, and business to create the next generation of great leaders. With a presence in more than 100 countries and territories, AACSB fosters engagement, accelerates innovation, and amplifies impact in business education. Learn how AACSB is transforming business education for a better society at aacsb.edu.
Contact: Leah Harms Public Relations Manager AACSB International MediaRelations@aacsb.edu
About Fayetteville State University
Fayetteville State University is a constituent institution of The University of North Carolina System and the second-oldest public institution of higher education in the state, having been founded in 1867. FSU is a historically black university offering degrees at the baccalaureate, master's, and doctoral levels. With more than 6,700 students, Fayetteville State University is among the most diverse institutions in the nation. To learn more about Fayetteville State University, visit www.uncfsu.edu.
About Broadwell College of Business and Economics
The Broadwell College of Business and Economics houses the Department of Accounting, Finance, Healthcare and Information Systems, the Department of Management, Marketing, and Entrepreneurship, the Department of Graduate and Professional Studies in Business and holds AACSB accreditation. There are approximately 1,800 students and 40 faculty in the College, including three endowed chairs. The College has focused its efforts on improving the quality of its degree programs; creating an environment that supports impactful and innovative teaching, research, and service; expanding its community outreach and support. To learn more about Broadwell College of Business and Economics, visit www.uncfsu.edu/bcbe.