Fayetteville State University Announces Tuition-Free Scholarships for Military-Affiliated Students
Date: February 03, 2022
Initiative supported by research validating FSU as the #1 ranked HBCU destination for the military-affiliated community
Fayetteville State University (FSU) today solidified its place as the premiere destination for the military-affiliated community by announcing a new Military Tuition Scholarship, which will provide free tuition to all miliary-connected students beginning Fall 2022.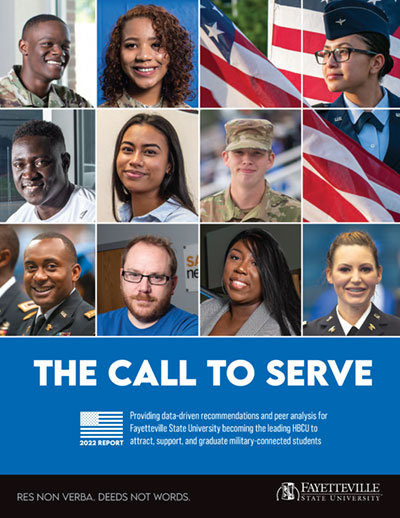 At a ceremony hosted at Fort Liberty Army Base, FSU Chancellor Darrell T. Allison announced the initiative as well as the public release of a report that analyzed the university's historic support of military-affiliated students, its services and performance compared to its peers among Historically Black Colleges and Universities (HBCUs). The report, Deeds, Not Words: FSU's Call to Serve, commissioned by FSU, ranks the university as a top provider of education to military-affiliated students along a number of variables, including academic outcomes, programmatic offerings, and a return on investment (ROI).
"Fayetteville State University is proud to be the premier destination, not just in North Carolina but in the nation, for educating military-affiliated students," said Chancellor Allison. "FSU is perfectly positioned here in the Sandhills region to change the landscape on how we think about workforce readiness in today's ever-changing job market and how we, in higher education, can support veterans and their families in their transitions to the civilian workforce. We're excited to announce the Military Tuition Scholarship (fully paid) to further support those who sacrificed for our nation in their next chapter in life."
The report, conducted by the public relations and consulting firm Evocati, shows that among four-year HBCUs nationwide, FSU is the top HBCU for educating military-affiliated students. Additionally, FSU is placed in the top three percent of its peers for ROI, has the largest number of GI Bill students among HBCUs, and was the highest-ranked HBCU and University of North Carolina institution in Military Times' 2021 Best for Vets college ranking.
"Evocati was honored to provide this groundbreaking research report to FSU as part of our service to empower clients who want to research, market, and grow their impact in the military-affiliated community," said report author LeNaya Hezel. "We believe FSU is the most well positioned institution in the country to play a leading role educating military-affiliated students. We seek to facilitate a national dialogue about the historic role HBCUs have, and will continue to have, in serving this community. We look forward to building on our partnership with FSU and are excited for what comes next."
The report demonstrates that FSU produces strong academic outcomes, offers extensive student supports, and delivers a rapid return on students' investment. The research builds on FSU's rich legacy of service to military-affiliated students and its commitment to America's service members, veterans, and military families. In addition, the report validates the university's ongoing efforts to broaden access for military-affiliated students.
Only a few miles down the road from Ft. Bragg- the world's largest military installation - Fayetteville State University offers highly flexible degree programs at an affordable price. "Military veterans are diverse professionals who have unique skills and experiences, making them invaluable contributors to any organization or community," said Col. Scott Pence, Fort Liberty Garrison Commander. "With Fayetteville State University's affordable and flexible degree programs, along with the Military Tuition Scholarship, service members and their families can successfully complete a degree or certification on their own terms. Fort Liberty is truly thankful for the support of local colleges and universities who make it possible for service members and their families to continue their education."
In addition to connecting fellow students through its Student Veterans' Center and providing dedicated staff and program space for military-affiliated students, FSU offers a wide range of professional certifications opening doors to high paying, impactful government jobs and opportunities.
The announcement of these initiatives will take place
When: February 3, 2022, at 10:00 am
Where: Ft. Bragg Army Base
Why: Special Military Scholarship and Rankings Announcement
Media RSVP: Joy Cook, Media Relations jcook15@uncfsu.edu
---
About Fayetteville State University
Fayetteville State University is a constituent institution of The University of North Carolina System and the second-oldest public institution of higher education in the state, having been founded in 1867. FSU is a historically black university offering degrees at the baccalaureate, master's, and doctoral levels. With more than 6,700 students, Fayetteville State University is among the most diverse institutions in the nation. To learn more about Fayetteville State University, visit www.uncfsu.edu.