Fayetteville State University appoints new Deputy Chief of Staff and Secretary to the University
Karen Elizabeth Bussey, Ph.D., will spearhead key initiatives and work with the Board of Trustees
Date: October 18, 2022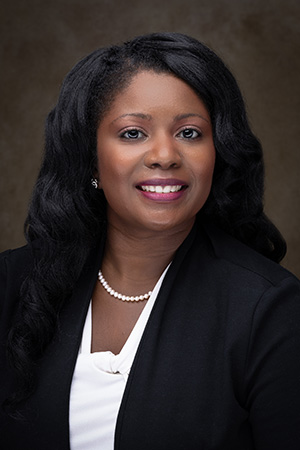 Fayetteville, N.C. (October 18, 2022) — Fayetteville State University (FSU) named Karen Elizabeth Bussey, Ph.D., as its new deputy chief of staff and secretary to the university. In her role, Bussey will be responsible for advancing university protocols and procedures and assisting FSU Chancellor Darrell T. Allison in implementing a new campus-wide FSU Customer Care program. Bussey will also serve as the liaison to the FSU Board of Trustees.
"We are very fortunate to welcome Dr. Bussey to Fayetteville State University to help move our mission forward," Allison said. "Her expertise in higher education and student access and equity, combined with her high-level policy making background, will contribute significantly to our strategic short- and long-term goals in elevating FSU as a leading institution of higher learning regionally and nationally."
Bussey comes to FSU from the Office of the New Jersey Secretary of Higher Education where she served as policy advisor for implementing the governor's education, workforce and economic development initiatives. Her guidance and recommendations helped New Jersey's economy recover from and adapt to the ongoing COVID-19 pandemic by closing equity gaps in the state's education-workforce pipeline.
Bussey has a decade of experience in higher education across institutional, state and non-profit sectors. She earned her doctorate in higher education leadership and policy studies at Howard University in May 2022. She holds a master's of education in professional counseling with a concentration in student affairs from the University of West Georgia and a bachelor's of science in marketing from South Carolina State University.
"I am delighted to welcome Dr. Bussey and look forward to working with her to implement strategic initiatives across campus to serve our students, our city, the Sandhills region and beyond," said Samantha McKenzie Holmes, vice chancellor and chief of staff. "Chancellor Allison and FSU's leadership team have a bold and ambitious vision for the university's future. With the help of passionate and experienced professionals like Dr. Bussey, we are well positioned for success."
Bussey began her career in higher education working in student affairs and served as the assistant director of campus life at Jackson State University leading its student engagement and leadership development initiatives. As a researcher and project manager at the Institute for Higher Education Policy (IHEP) in Washington, D.C., she worked with policy experts to provide research and recommendations to improve college student success and postsecondary data policies.
"I'm thrilled to join Fayetteville State's leadership team and bring my passion and experience for student advocacy to advancing the amazing work that's already in progress here," Bussey said. "FSU's commitment to student access and success as well as its innovative approaches to recruiting, retaining and graduating students are inspiring. I'm excited to get started."
Bussey has presented at national conferences on postsecondary policy and educational equity, including the National Association for College Admission Counseling, the Association for the Study of Higher Education, the State Higher Education Executive Officers Association, the Association for Education Finance and Policy, and the Association for Public Land-Grant Universities. She was a 2021 National Center for Education Statistics Data Institute fellow and a 2018 Montpelier Robert H. Smith Center for the Constitution fellow. She also served on the board of directors for the Association for the Study of Higher Education.