Fayetteville State University Concert Choir to Perform at Stern Auditorium/Perelman Stage at Carnegie Hall
The concert is scheduled for Sunday, April 9, 2023, at the famed concert hall
Date: December 13, 2022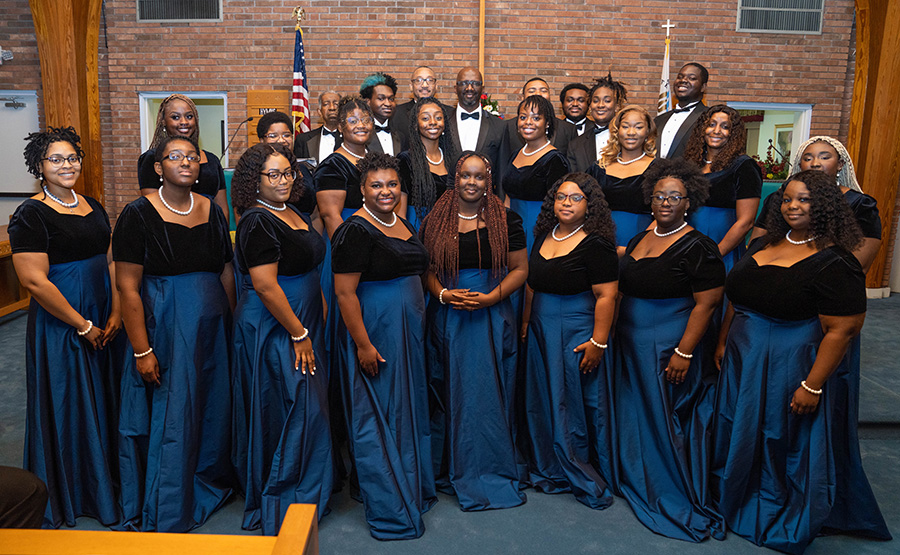 FAYETTEVILLE, N.C., (December 13, 2022) — Fayetteville State University Concert Choir led by Director Denise Murchison Payton will take the stage at Stern Auditorium/Perelman Stage at Carnegie Hall this April under the baton of Maestra D'Walla Simmons-Burke. The choral ensemble will be joined by singers from around the country in Rosephanye Powell's powerful original choral work, The Cry of Jeremiah with the New England Symphonic Ensemble (Preston Hawes, Artistic Director) and distinguished soloists. The production is part of MidAmerica Productions' 40th annual concert season. The other portion of the concert will include Homestead and Shorewood High School Chamber Orchestra under the shared baton of Karen Frink and John Emanuelson as well as the New York Premiere of Pre-Existing Condition by composer/conductor Stephen Caldwell.
"Fayetteville State University Concert Choir received this invitation because of the high level and quality of musicianship demonstrated by the singers," said Peter Tiboris, General Director and Music Director of MidAmerica Productions and MidAm International." We are thrilled to have them on our roster of distinguished and esteemed musicians."
"I am immensely proud of our performers," said Payton. "They've worked hard to receive this honor, and I know this will be an experience they will remember for the rest of their lives."
The experienced American choirs performing on the concert include:
North Carolina Central University Choir (Roberta A. Laws, Director)
Voorhees University Choir (Rachel Jones, Director)
Fayetteville State University Concert Choir (Denise M. Payton, Director)
Burke Chorale/Winston-Salem State University Choir (D'Walla Simmons-Burke, Director)
Apple Valley High School Choirs (Joel Beyer, Director)
Huston-Tillotson University Concert Choir (Gloria Quinlan, Director)
The singers will spend five days and four nights in New York City in preparation for their concert. They will also spend nine to ten hours in rehearsal as well as touring New York City. They will be performing at Stern Auditorium/Perelman Stage at Carnegie Hall on Saturday, April 9th at 2:00 p.m.
This is FSU Concert Choir's second performance at Carnegie Hall. The choir presented a Solo Prelude Performance, under the baton of Dr. Payton, in 2013. 2023 also marks the 140th celebration of the choir's inception, which began at FSU in 1883.
---
Sunday, April 9, 2023, at 2:00 PM
Stern Auditorium/Perelman Stage at Carnegie Hall
Caldwell, Stephen—Pre-Existing Condition: Stephen Caldwell, conductor
Powell, Rosephanye—The Cry of Jeremiah: D'Walla Simmons-Burke, conductor
Homestead and Shorewood High School Chamber Orchestra - Karen Frink and John Emanuelson, Directors
MidAmerica Productions continues its 40th season with the New York premiere of composer/conductor Stephen Caldwell's choral work Pre-Existing Condition and D'Walla Simmons-Burke conducting Rosephanye Powell's The Cry of Jeremiah with the New England Symphonic Ensemble and distinguished soloists. Experienced and esteemed American choruses hail from Minnesota, Wisconsin, Arkansas, North Carolina, South Carolina, and Texas. Homestead and Shorewood Chamber Orchestra complete the afternoon program under the shared baton of Directors Karen Frink and John Emanuelson.
TICKETS:
Tickets go on sale to the general public Monday, January 9, 2023, at 9:00 AM EST via Carnegie Hall. For single tickets call Carnegie Charge at 212-247-7800 or visit carnegiehall.org
For group sales of ten or more, contact groupsales@carnegiehall.org or call 212-903-9705
Carnegie Hall Box Office is located at 57th Street and Seventh Avenue
---
ABOUT MIDAMERICA PRODUCTIONS AND MIDAM INTERNATIONAL
Peter Tiboris created and conducted his first concert in New York on January 7, 1984, at Lincoln Center, featuring The American Symphony Orchestra, soloists, and three choruses, the Louisiana Chorale of Acadiana, Camerata Singers of Baton Rouge, and Collegiate Chorale of New York.
For 40 years, MidAmerica Productions has brought together conductors, soloists, and choral and orchestral ensembles from the U.S. and abroad to appear at New York's top venues, including Stern Auditorium/Perelman Stage, Weill Recital Hall, and Zankel Hall at Carnegie Hall; and Alice Tully Hall and Avery Fisher Hall (now David Geffen Hall) at Lincoln Center. In addition to presenting orchestral and choral works, MidAmerica Productions has championed contemporary composers with 98 World Premieres, 38 United States Premieres, and 121 New York Premieres.
In 2004, MidAm International, Inc. was formed to support MidAmerica's growing presence in Europe. Since then, concerts have taken place in countries throughout the world, including Greece, England, Austria, Bulgaria, the Czech Republic, Italy, France, Portugal, Russia, Ukraine, Slovakia, and Mexico.
APPROVED PHOTOS, VIDEOS, AND MEDIA KIT
---
ABOUT MAESTRA D'WALLA SIMMONS-BURKE
Maestra D'Walla Simmons-Burke has held teaching positions in Georgia, South Carolina and presently at Winston-Salem State University (North Carolina) where she is the Director of Choral and Vocal Studies for the Department of Music.
Simmons-Burke is the founder of four of the five choral ensembles currently existing within the Music Department at Winston-Salem State University (Winston-Salem State University Singin' Divas; Schola Cantorum; Complesso Voce' and the renowned Burke Singers). The Winston-Salem State University Choir (aka Singing Rams) is one of the first student organizations founded at the university. The WSSU Choir has performed with the Gateways Symphony Orchestra; Winston-Salem Symphony Orchestra, D'Vorak Symphony Orchestra, Colour of Music Festival Symphony Orchestra and the New England Symphony Orchestra and is well sought after for its performances of master choral works (i.e.…Haydn's Creation; Handel's Messiah; Fauré's Requiem; Rossini's Stabat Mater; Orff's Carmina Burana; Mozart's Requiem; and Berlioz's Te Deum), spirituals and world music. Maestra Simmons-Burke has conducted Gabriel Fauré's Requiem with the New England Symphony and Symphony Chorale at Carnegie Hall. Simmons-Burke has also performed internationally with her choral ensembles and as a guest conductor/lecturer in Prague, Czech Republic; Nassau, Bahamas; Accra, Cape Coast & Kumasi, Ghana - West Africa; and Pilanesberg, Cape Town and Johannesburg – South Africa. Maestra Simmons-Burke has conducted The 105 Voices of History Concert Choir as a National Conductor at The John F. Kennedy Performing Arts Center and in Nassau, Bahamas. She is a recipient of the 105 Voices of History Kennedy Center Performing Arts Award.
Under Simmons-Burke's baton, her choral ensembles have performed for and/or with such regional and national and international dignitaries as President George W. Bush; Kweisi Mfume; Susan Taylor; former North Carolina Governor James Hunt; Maya Angelou; Dick Gregory; Patti Austin; Harry Belafonté; Madame President Ellen Johnson Sirleaf of Liberia and Pope John Paul II, to name a few. Her exceptional and diverse vocal and choral pedagogies are continuously demonstrated through the outstanding students she has produced. As a result, Simmons-Burke has been the recipient of several teaching awards such as the Winston-Salem State University Patterson Outstanding Teacher of the Year Award, Winston-Salem State
University Cedric Rodney Service Award and The John F. Kennedy Center for The Performing Arts 105 Voices of History National Conductor's Award. Formally, the Recording Academy, in partnership with the GRAMMY Foundation nominated Simmons-Burke for the Grammy's Music Educator of the Year Award.
---
ABOUT THE CRY OF JEREMIAH
Commissioned by the American Guild of Organists for their 2012 convention, The Cry of Jeremiah is the first major work from the pen of Rosephanye Powell. With text from the Book of Jeremiah, the four movements follow the prophet's feelings of abandonment and redemption by God. Powell combines this ancient text with music that draws simultaneously from the African American musical heritage, as well as the classical music traditions.