Fayetteville State University Designated the First Purple Heart University in University of North Carolina System
Date: December 03, 2021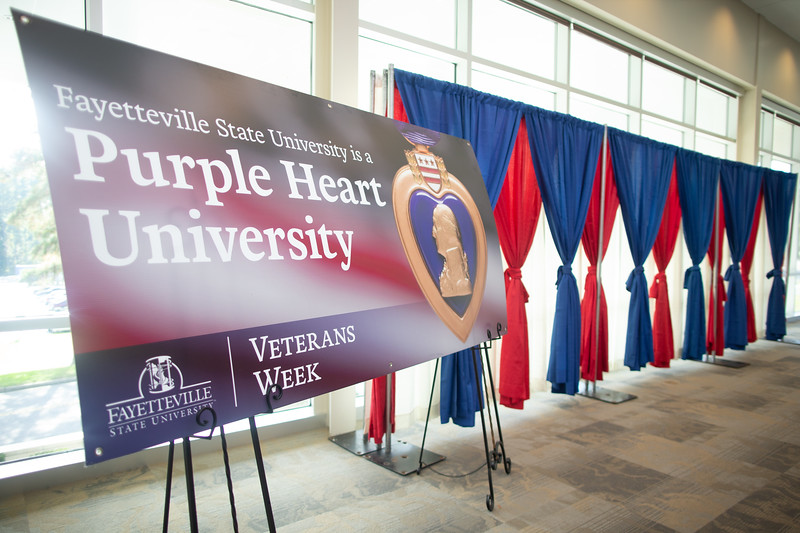 The Military Order of the Purple Heart has designated Fayetteville State University (FSU) a Purple Heart University, making FSU the first university in the University of North Carolina System to receive the honor. The Purple Heart University designation is in recognition of FSU's history of supporting veterans and their families. The recognition letter from the Military Order of the Purple Heart stated that the designation honors the entire veteran community at the University, as well as the students, faculty and staff, Board of Trustees and administration. FSU becomes the first university among the sixteen University of North Carolina System to be designated as a "purple heart university."
The Purple Heart Medal, which was created by George Washington in 1782 as the Badge of Military Merit, is the oldest military award given to U.S. military members. The medal is given to U.S. military members who are wounded in combat or to their next of kin if they are killed in action or die from wounds received in action. The Military Order of the Purple Heart (MOPH) was formed in 1932 for the protection and mutual interest of all combat wounded veterans and active-duty men and women who have received the decoration. Most importantly, through veteran service officers, the organization provides comfort and assistance to all veterans and their families.
"FSU has a long legacy of educating those who serve in the Armed Forces. At FSU, we lead HBCU's in military connected student enrollment and this honor demonstrates our deep appreciation to our military students. Our university sits right in the same city with the largest U.S. Army base in the country and it makes us proud that our students reflect that and support that as well." Says, Siobhan Norris, Associate Vice Chancellor for Military Affairs.
In June of this year, FSU was named 168th on the Military Times' 'Best Bet for Vets' list. An impressive nationwide pool of 500 universities completed a comprehensive survey consisting of 150 questions aimed at understanding university operations tailored to former service members and their families. Active-duty military members can take advantage of FSU's online course options and flexible degree programs.