Fayetteville State University Figures Prominently in Fayetteville Observer's 40 Under 40 List FSU Alumni, Faculty Honored
FSU alumni and faculty comprise nearly 25% of The Fayetteville Observer's 2022 class of 40 Under 40.
Date: August 12, 2022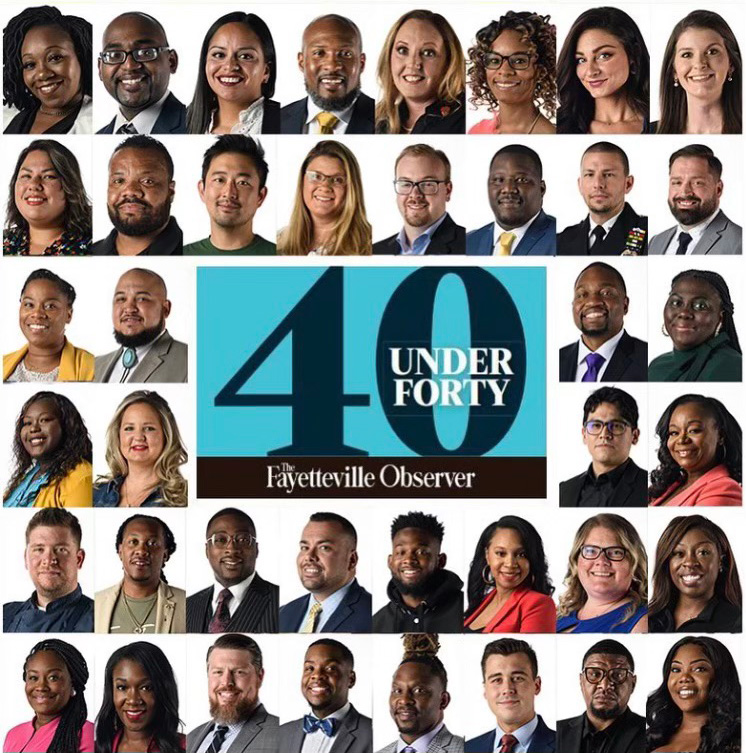 FAYETTEVILLE, N.C., (August 12, 2022) – Fayetteville State University (FSU) alumni and faculty comprise nearly 25% of The Fayetteville Observer's 2022 class of 40 Under 40. Of the more than 250 nominations received, eight FSU alumni and an academic coach/director from FSU's Upward Bound College Access Program were among the 40 honorees.
The Fayetteville Observer has celebrated the community's best and brightest young professionals through the 40 Under 40 award for 12 years. The list is designed to spotlight those who excel in their professional roles and serve their communities.
"It is so gratifying to see Fayetteville State alumni and leaders recognized for their incredible talent, drive and contributions to our community," said FSU Chancellor Darrell T. Allison. "Our goal is to support and prepare our students for rewarding and fulfilling careers after college; these are just a few of the many amazing people of FSU who are making a difference wherever they are."
The Fayetteville Observer noted that this year's inductees are accomplished professionals in their respective fields but set themselves apart with their passion for giving back. They all acknowledge the important role family, friends and mentors have played in molding them into the successful, dedicated people they are today.
While varied in their professions, which include education, law enforcement, medicine and real estate, this year's class of inductees are all similarly successful professionals who demonstrate leadership in their fields. FSU alumni/leaders included in the 2022 list are:
· Shareeka Brunson, B.S. in nursing, 2018. She is now a family nurse practitioner for Southern Regional AHEC.
· Josh Choi, B.A. in sociology, 2013. He is the owner/proprietor of Winterbloom Tea.
· Robert Cousins Jr., B.S. in business administration, 2011. He is a district manager, DTLR Inc.
· Vanessa Ann Daniels, B.A. in sociology, 2012. She is a life coach, insurance agent, and doula.
· Elijah Davis III, B.S. in criminal justice, 2011; M.A. in teaching-middle grades math, 2014; M.S. in school administration, 2020. He is the career and technical education facilitator for Douglas Byrd High School.
· Gerald Hernandez Jr., B.S. in elementary education, 2005; M.S. in school administration, 2014; enrolled in Fayetteville State's Doctor of Education (Ed.D.) program. He is the principal of EE Miller year-round elementary school.
· Rangel S. Moore is the director of Upward Bound Math & Science at Fayetteville State University. He earned a bachelor's degree in exercise/sports science from UNC-Pembroke and an M.P.A. from Capella University.
· Alex Shuler, B.S in criminal justice, 2005. He serves as an admissions counselor/recruiter for Department of Labor Kittrell Job Corps.
· Paul J. Williams, B.S. in professional studies, 2019. He is a Cumberland County Schools exceptional children's teacher for those with severe emotional disability.
Chosen by a panel of judges comprising Fayetteville Observer editors, community leaders and past honorees, nominees had to live or work in Bladen, Cumberland, Harnett, Hoke, Lee, Moore, Robeson, Sampson or Scotland counties and be younger than 40 as of June 1, 2022.