Fayetteville State University Partners with Student Freedom Initiative to receive nearly $4.3 million in Cybersecurity Software and Services
FSU will participate in the Student Freedom Initiative's HBCU Targeted Capacity Building Effort and receive nearly $4.3 million in Cisco cybersecurity tools and technical support over a five-year period.
Date: October 05, 2022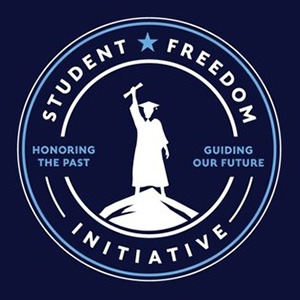 Fayetteville, N.C. (October 5, 2022) — To address cybersecurity challenges and keep pace with technological advancements in higher education, Fayetteville State University (FSU) will participate in the Student Freedom Initiative's (SFI) HBCU Targeted Capacity Building Effort.
The effort — Modernize Digital Infrastructure — helps acquire cybersecurity tools through SFI's partnerships with Cisco and Procellis Technology. FSU will receive nearly $4.3 million in Cisco cybersecurity tools and technical support over a five-year period — among Cisco's largest awards to date. In addition, the program will help ensure HBCU students and staff access to relevant cybersecurity training and workforce development material.
"SFI's HBCU Capacity Building Effort is a major step towards advancing FSU's strategic initiatives focused on STEM education and enhanced cybersecurity as a whole," said Hector M. Molina, DBA, FSU vice chancellor for information technology and CIO. "As we continue to strengthen and expand our technology infrastructure, services and academic offerings, partnerships like this further elevate FSU's commitment to delivering a world-class education and make FSU a top destination for talented students seeking a distinctive college experience."
At the September meeting of FSU's Board of Trustees, Chancellor Darrell T. Allison highlighted the HBCU Targeted Capacity Building effort among several key initiatives underway to advance the university's mission and achieve its long-term goals.
"We have high aspirations and great expectations for our students, our university, our region and beyond," Allison said. "It's not enough to think boldly, and so this historic support gives Fayetteville State University what it needs to actively work strategically, collaboratively and innovatively to give our students the best possible academic experience and move our campus forward. A sound infrastructure and support are crucial to that end and our partnership with SFI is helping make that possible."
SFI and its strategic partners aim to address the digital divide facing the nation's HBCUs, all of which are eligible to participate at no cost. SFI now has 48 HBCUs participating in one or more components of the program in 18 states — nearly half of all such institutions nationally.
SFI, Cisco, and Procellis are well-positioned to lead HBCUs through the process of implementing enhanced cybersecurity frameworks. Under this program, FSU will lower its risk of cyber-attacks and position itself to take advantage of new opportunities that will close the digital divide.
The SFI helps participating HBCUs comply with the recently approved Department of Education cyber security requirements defined within the National Institute of Standards and Technology (NIST). Cisco is donating more than $100 million in software and services to help HBCUs comply with NIST standards. Additionally, Cisco Networking Academy, an industry-standard IT education program, will be available to all HBCUs.
"Collectively, Student Freedom Initiative and Cisco/ Procellis will bring meaningful, sustained and measurable opportunities to advance the HBCU ecosystem," said Keith B. Shoates, chief operating officer of Student Freedom Initiative.
---
About Student Freedom Initiative:
Launched in March 2020, the Student Freedom Initiative, a 501(c)(3) nonprofit organization, is dedicated to ensuring freedom in professional and life choices for junior and senior students pursuing science, technology, engineering, and mathematics (STEM) degrees. Initially focused on Historically Black Colleges and Universities (HBCUs), the Student Freedom Initiative is student-centered, evidence-based, and holistic. SFI enables the social and economic mobility of participants through four transformative components, including an income contingent alternative to fixed payment obligations used to finance college, internships, mentoring, tutoring, and other student services, as well as targeted HBCU capacity building. SFI collaborates with community-based organizations, businesses, and governmental entities through public-private partnerships to make sustainable, systemic changes to support the entire HBCU ecosystem. To learn more, visit https://studentfreedominitiative.org or find us on Twitter @StuFreedomOrg.