Fayetteville State University Professor Secures Trifecta in Grant Awards
Dr. Justin Graham Receives Over Half a Million Dollars in State, Federal and Private Funding
Date: October 27, 2022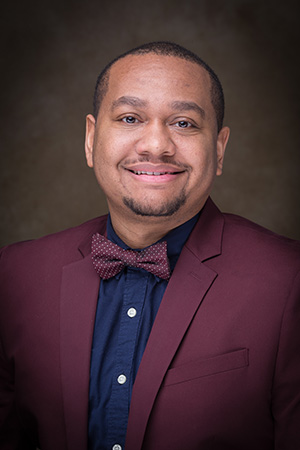 Fayetteville, N.C. (October 27, 2022) — Three grants awarded to Fayetteville State University's (FSU) Justin Graham, Ph.D., will help advance its research enterprise, procure state-of-the-art equipment, and encourage undergraduates and high school students to explore STEM disciplines.
Graham, an assistant professor in the Department of Biological and Forensic Sciences (DBFS) and director of the FSU Honors Program, received his third grant award in six months, bringing his recent funding total to $507,175.
A Class of 2009 FSU graduate, Graham aims to enrich and expand the university's research capabilities, create opportunities to further engage students and bolster their post baccalaureate success. In the last six months, he received an Innovation Impact Grant from the North Carolina Biotechnology Center, a Research Initiation Award from the National Science Foundation and a Student STEM Enrichment Program grant from The Burroughs Wellcome Fund.
"Each of these grants fills a unique and specific need," Graham said. "The funding will support and advance our research and teaching and further engage current undergraduates as well as students in the Cumberland County region. We want students to experience the possibilities that STEM fields offer and encourage them to pursue these interests."
Graham's Innovation Impact award — titled "Fayetteville State University Acquisition of an iBright FL1500 Imaging System" — is a one-time award of $40,241 to acquire an iBright FL1500 imaging system for the Department of Biological and Forensic Sciences' core laboratory facilities. This collaborative proposal also included additional department faculty: Drs. Eid Haddad, Danielle Graham, and John Yuan.
The Historically Black Colleges and Universities Undergraduate Program (HBCU-UP) through Research Initiation Awards proposal — "Targeting Pyocyanin Production to Study Virulence Gene Regulation in Pseudomonas Aeruginosa" — is a three-year award totaling $287,252. This proposal aims to explore gene regulation in Pseudomonas aeruginosa by using pyocyanin as the target. The research project will be centered around teaching and training undergraduate students in hypothesis-driven research experiences. Currently, Graham has seven FSU undergraduates conducting research in his laboratory.
The Student STEM Enrichment Program award — titled "Fayetteville State University's STEM Enrichment and Exploration Camp" (FSU-SEEC) — is one of only 10 awarded over three years and totals $179,682. The initiative will establish a four-week summer camp with a monthly Saturday academy available to underrepresented and underserved Cumberland County high school students interested in STEM. This project will host cohorts of 24 students annually on FSU's campus to foster enthusiasm for STEM by using microbiology and geospatial sciences. The geospatial portion will be led by the project Co-Principal Investigator Trung Tran, Ph.D., an assistant professor in the Department of Intelligent Studies, Geospatial Science, Political Science and History (IGPH).
"Science, Technology, Engineering, Math and Medicine (STEM-M) fields offer significant opportunities for students to pursue rewarding and impactful careers," said Monica T. Leach, Ed.D., provost and senior vice chancellor for academic affairs. "Dr. Graham is a prime example of the impact such opportunities can have, and we congratulate him on his incredible work and commitment to preparing the next generation of investigators and educators. The funding he has secured will go far to help give our students a competitive edge; we can't wait to see what happens next."
These endeavors aim to boost STEM development of FSU and Cumberland County students and will also help cultivate interest and confidence for students to follow STEM aspirations and create a more diverse STEM-focused cohort.