Fayetteville State University School of Nursing to train Sexual Assault Nurse Examiners (SANE)
State's First Ever Pilot Program Could Double Certified SANEs
Date: July 19, 2022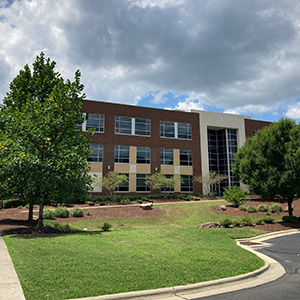 Fayetteville, N.C. (July 19, 2022) — More than 25 million women and nearly 8 million men experience sexual violence in their lifetime according to data from the Centers for Disease Control (CDC). For sexual assault victims in North Carolina, the best person to care for them and collect forensic evidence to help bring victims justice may not be at the nearest hospital – or anywhere close.
North Carolina is suffering a critical shortage of nursing professionals trained to care for victims of sexual assault, or Sexual Assault Nurse Examiners (SANEs) — fewer than 100 SANEs are certified across the entire state.
Fayetteville State University's (FSU) School of Nursing aims to change that. A $1.5 million appropriation in this year's North Carolina state budget will support a one-of-a-kind pilot program at FSU's School of Nursing to train approximately 20 of these specially qualified nurses per semester, including the summer, for a total of 40 to 60 per year. FSU is likely to be the first HBCU in the country to host a SANE training program at its nursing school.
"Fayetteville State University and its School of Nursing train skilled health care professionals who offer an unmatched level of care and expertise in every facet of their work," said FSU Chancellor Darrell T. Allison. "But it goes much deeper than that. In addition to our student nurses receiving exceptional training from our world class professors and clinicians, FSU also trains our students on the importance of empathy, compassion, and emotional support for patients, especially for those who have been assaulted. We are most appreciative that our state leaders have charged this public university – the second oldest public institution – to launch this important work. In my opinion, there is no better place for that than FSU under the leadership of two of the strongest in the nation in Dr. Afua Arhin, dean of FSU's College of Health, Science and Technology, and Dr. Sheila Cannon, associate dean of FSU's School of Nursing."
FSU's nursing school aims to grow and sustain the program, addressing a void in specialized nursing care, particularly in underserved, underrepresented communities.
"Unfortunately, sexual assault is a rampant problem nationwide, particularly in rural areas and among women of color and indigenous women," Arhin said. "FSU's School of Nursing is uniquely positioned to prepare health care professionals with the specialized skills required to meet the needs of these trauma patients. We are committed to training nurses of the highest caliber, SANEs are another area of critical need that we aim to address here."
According to Cannon, the effort will not only prepare nurses to care for assault victims medically and physically, but also help change the environment in the emergency room for assault victims.
"When someone has been sexually assaulted, they live with that for years and years and years, we can change that on the front end just by having the right resources, the right support for those individuals who enter the emergency room setting," Cannon told ABC11 news. "[This effort] grew my passion for what was happening when the sexual assault victim entered the emergency room setting, and particularly the lack of SANE-trained nurses to care for them. The wait time that they had to experience, the lack of compassionate care, almost like the re-traumatization all over again."
While 18% of white women will face a sexual assault in their lifetimes, nearly 19% of black women and more than 1-in-3 indigenous women will also face sexual assault, according to the National Alliance to End Sexual Violence. At the same time, there are very few SANE nurses of color, Cannon said in a recent Carolina Public Press article. People of color are "not likely at all" to see someone who resembles them when they seek a SANE nurse, she said. "Because we are so culturally diverse here at FSU, we can certainly generate more people of color who are SANE-trained and can grow that interest in that way."
While any nurse or doctor can complete a sexual assault kit, which collects DNA and evidence of an assault, SANE nurses are trained to know where to look for bruises and scrapes. After dozens of hours of practice and training, they also know how to ask delicate questions about what happened, so they know where else to look for harm. They also provide medication to prevent pregnancy or sexually transmitted infections.
SANE nurses are also taught how to interact with victims as they process what happened to them, which includes training to address cultural sensitivity around LGBTQ, Black or Indigenous victims. SANE nurses also help protect victims from being charged for the exam. It's illegal in North Carolina to charge a rape victim for his or her examination but it often happens.
A SANE nurse certification requires a person to have been a nurse for at least two years, complete dozens of hours of training and clinical work, and then pass a written exam by the International Association of Forensic Nurses. Many nurses around the state have completed some training or have attended training with their hospital about how to treat sexual assault survivors but lack the full credential.
About 580 students attend FSU for a variety of nursing-related programs, including pre-nursing, pre-licensure or a master's program. Cannon said that a recent survey of FSU nursing students revealed that about 80% expressed interest in SANE training.
Nationally, hospitals have trouble retaining nurses in their SANE programs. Part of the reason is retention: Serving a sexual assault victim can be emotionally difficult, and a SANE nurse might be the only person with that credential in a hospital — potentially leading to an erratic work schedule and heavy workload. This program is a strong step in the right direction.