Fayetteville State University Wins 2022 CIAA Football Championship - Video
Broncos Claim CIAA Football Championship 31-28 on 43-yard walk-off field goal by Elton Andrew
Date: November 15, 2022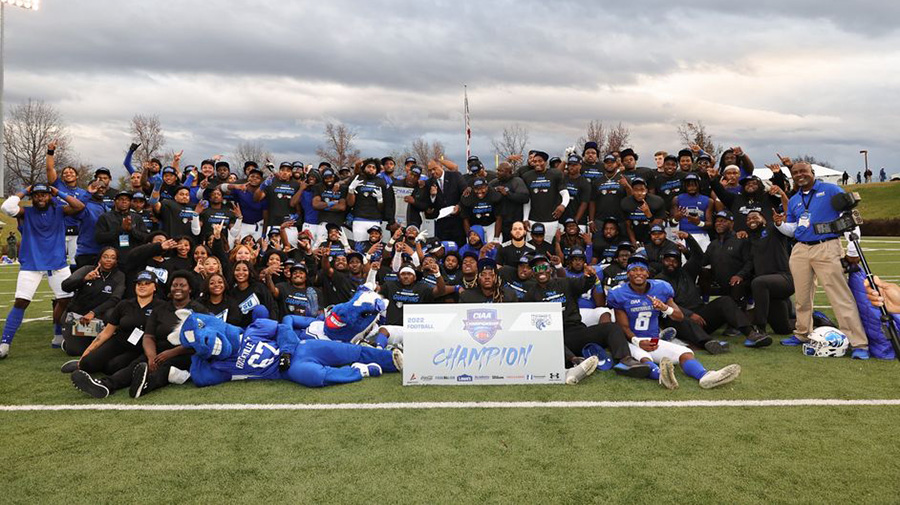 SALEM, VA (November 12, 2022) -- Fayetteville State's Elton Andrew made a 43-yard field goal as time expired to give the Broncos a spectacular 31-28 win over Chowan on Saturday afternoon at Salem Stadium for Fayetteville State's fourth overall and Head Coach Richard Hayes first CIAA Football Championship title.
The triumph improved Fayetteville State's record to 9-2 on the season while the Chowan fell to 7-4.
Quarterback Demari Daniels led Fayetteville State's passing attack with 188 yards through the air, tossing two touchdowns and one interception. The signal caller also added 43 yards on the ground. At the conclusion of the game, Daniels was named the Food Lion's Most Valuable Player.
In addition to Daniels' effort, running back Ellijah Henry paced the Broncos' rushing attack by accumulating 41 yards and one touchdown over the course of the game, averaging 5.1 yards per carry.
Wide Receivers Braxton Knotts hauled in three catches for 87 yards and one score and Barry Elliott made his presence felt in the passing game, recording four receptions for 81 yards and one touchdown.
Gerald Simpson led the Fayetteville State defensive effort, collecting 11 tackles with 2.5 stops for a loss of 3 yards. Brandon Barnes-Brown added one interception and Devin Cowan had five tackles, 1.5 TFL, and 1.5 sacks in the win.
Both teams forced two turnovers in Saturday's contest, with Fayetteville State turning those takeaways into seven points.
Fayetteville State's defense held up fairly well against the run, limiting Chowan to 158 yards on the ground. The Broncos' defense took up residence in Chowan's backfield all game, racking up four sacks and nine total tackles for loss.
Fayetteville State took care of business in the red zone, scoring three times on three trips inside Chowan's 20-yard line, with all of those scores being touchdowns.
FSU won its first football title in 2002 and a back-to-back reign in 2003. Before the Broncos made its fifth consecutive trip to the championship game under Head Coach Richard Hayes, the Broncos won its last title in 2009.