Fayetteville State Wins Back-to-Back Volleyball Titles with Sweep over Shaw
Date: November 21, 2021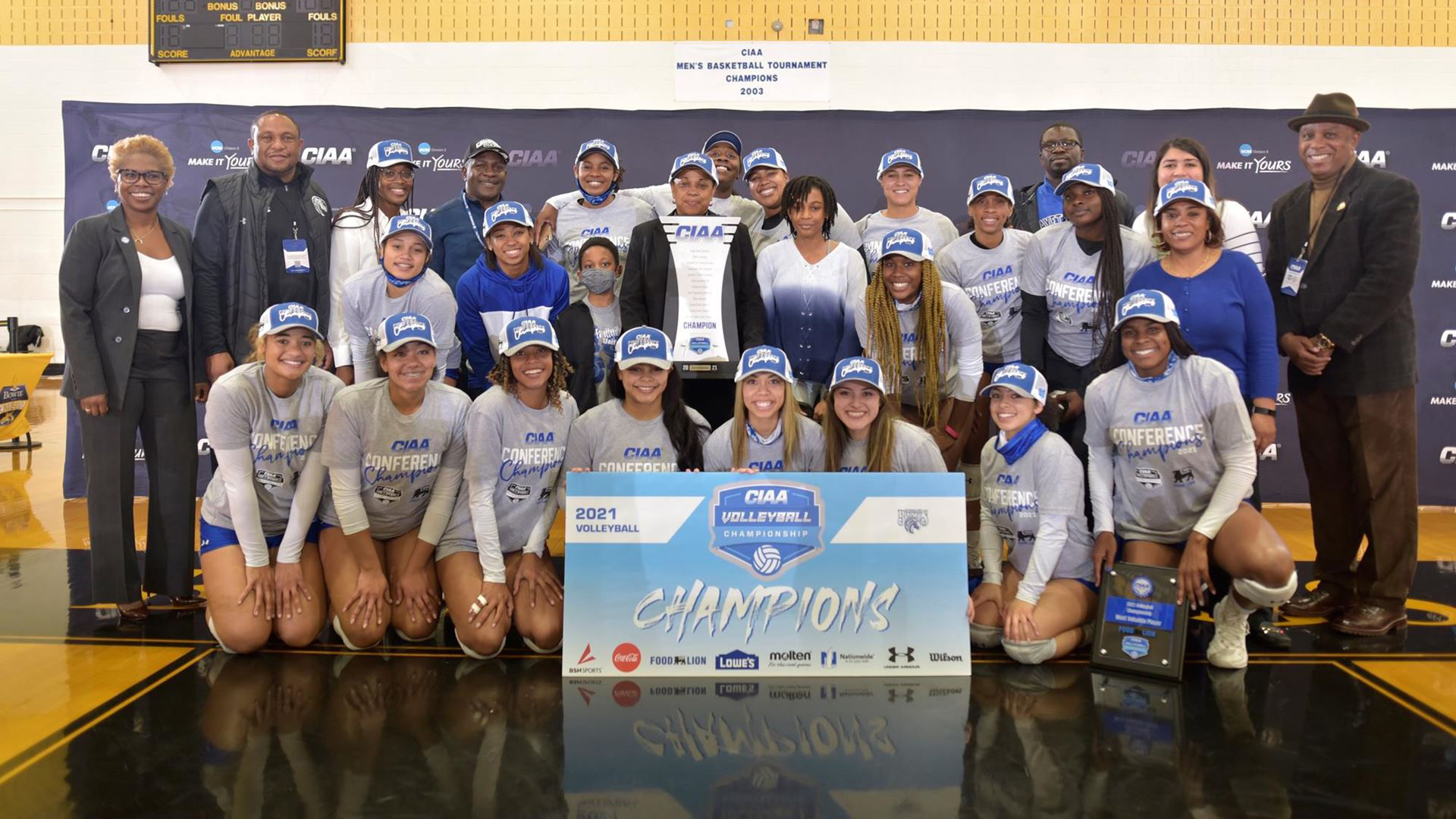 Fayetteville State University swept Shaw University 3-0, by sets of 25-16, 27-25, and 25-23 in Bowie, Maryland, to claim back-to-back CIAA Volleyball Titles. The victory marks the program's seventh overall CIAA Championship and second back-to-back win.
"It feels so good," said Dr. Reeshemah Johnson after winning her fourth CIAA Title at Fayetteville State as the head coach. She was an assistant coach on the program's 1998 championship and was a captain on the Broncos' 1996 championship team.
"Taking that break between 2019 and now, it's just so good to actually come back and still defend our crown. We had so much adversity this season with injuries and people who couldn't play. Just to see everybody else step up and lift their game, it's wonderful!
We didn't have any most valuable players this year, but I told them at the beginning of the season don't get offended, don't get your feelings hurt if you don't get one of those superlatives. This team is so balanced, it's going to be difficult for anybody to win one of those awards. With our team, everybody contributes. Everybody bought into that and everybody bought into the idea of we win a championship together."
Four Broncos were named to the CIAA Volleyball All-Tournament Team. Setter Jaida Bynum (Largo, MD) finished with 18 assists in the match. Libero Jasmine Jacinto (San Antonio, TX) had 19 digs. Casandra Watson (Grifton, NC) knocked down six kills and had 13 saves (digs). Rightside Hitter Da'Nesha Miller (Hilton Head Island, SC) was named the Food Lion Tournament Most Valuable Player for the second straight time, as voted on by the tournament committee and head coaches. She finished the match with 6 kills, 7 digs, and 15 assists. Miller displayed an all-around game throughout the tournament for the Broncos with 31 kills, 40 assists, 21 digs, and nine total blocks in three matches, averaging a double-double in kills and assists.
"Our FSU Volleyball Women Team - now CIAA Champions - personally inspire me. The sheer joy, passion, and intensity they bring each time to the game and their collectively leaving it all on the court is electric. As a father of two young daughters, I could think of no better role models for them than our very own 2021 Women Champions," said Chancellor Darrell T. Allison, who attended the games this weekend with his youngest daughter, Daila.
FSU finished the match with a total of 40 kills with 35 assists and 8 blocks. The Broncos kept play alive with 60 digs. Kalee Vanderhorst led the team with nine kills followed by Xiamana Spikes' seven. Spikes also had three blocks with Miller.
This was the second meeting between the two institutions this season and the second championship matchup. The Broncos have swept the Bears, 3-0, in the last four meetings. Noelani Beard led the Shaw Bears with 12 kills and Breelyn Clark contributed 28 assists.
Fayetteville State will await the NCAA Division II Atlantic Region Tournament Selection Show to see who they will face in the first round. The Broncos receive an automatic bid with the championship title. The tournament will start December 2 at a location yet to be determined.