Federal Reserve Bank of Richmond CEO Tom Barkin Visits FSU
Employment and Economic Growth Highlighted
Date: April 19, 2022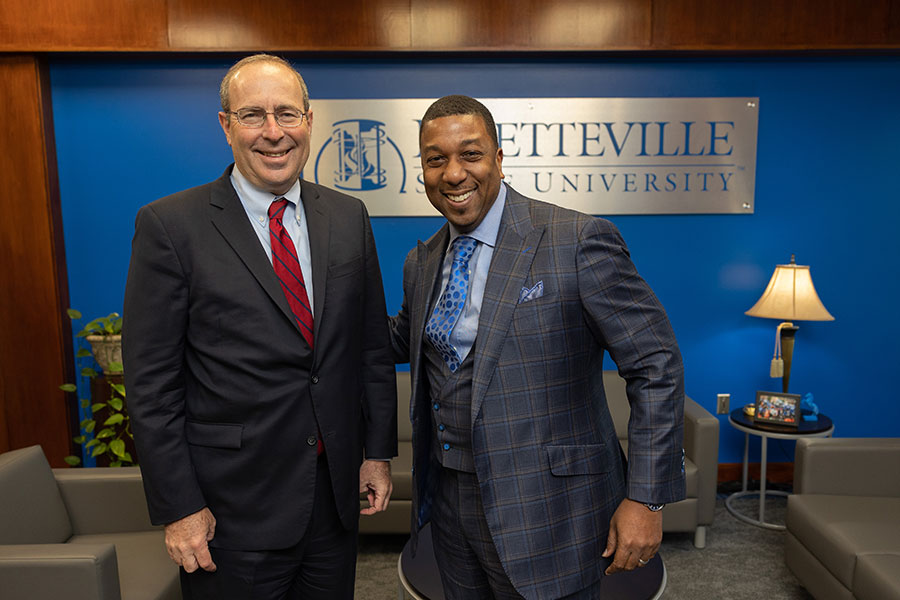 Federal Reserve Bank of Richmond president and CEO, Tom Barkin, recently visited Fayetteville State University, April 18, touring the campus and engaging with university administrators and students. The visit provided an opportunity for the university to share campus highlights, markers as a catalyst for employment, and future, strategic growth certain to economically impact the city and surrounding areas.
"From our Innovation Hub in Bronco Square to the E-Lab and our strategic focus on paid student internships, FSU is a centralized engine for economic growth in the Sandhills region," said Chancellor Darrell T. Allison. "We are honored to host Mr. Barkin and others to showcase how the university and our bright students are prepared to lead in the changing economic and employment horizon."
Barkin was joined by bank senior regional economist Laura Ullrich along with several invited guests and community leaders:
Glenn Adams
Chair FSU Board of Trustees
Mitch Colvin
Mayor City of Fayetteville
Dr. Stanley T. Wearden
President Methodist University
Dr. Marvin Connelly Jr.
Superintendent Cumberland County Schools
Robert Van Geons
Fayetteville Cumberland Economic Development Corporation
Elaina Ball
Fayetteville Public Works Commission
Representative John Szoka
North Carolina General Assembly
Representative Diane Wheatley
North Carolina General Assembly
Senator Kirk de'Viere
North Carolina General Assembly
Senator Ben Clark
North Carolina General Assembly
Dr. Laura Dawson Ullrich
Senior Regional Economist, Research Federal reserve
Scott Hamilton
Golden Leaf Foundation, President & CEO
Bo Biggs
Golden Leaf Foundation, Board of Directors
Perhaps the highlight of the visit was the conversation and Q&A with Barkin and several diverse student representatives. The roundtable-style discussion provided an opportunity for rich and robust dialogue around college experiences, entering the workforce and the student view of the current economy.
"Students shared their experiences and the reasons why they choose Fayetteville State. They all expressed what the university has meant for them and their families," said Provost and Senior Vice Chancellor for Academic Affairs, Monica T. Leach. "Their discussion around the economy and the impact of COVID on their learning was revealing but optimistic."
Barkin also shared internships opportunities within the Federal Reserve and the importance of gaining real world experience, while in college.
Barkin has held the position of bank CEO and president since 2018. He currently serves on the Federal Reserve's chief monetary policy body, the Federal Open Market Committee, and is also responsible for bank supervision and the Federal Reserve's technology organization. He is "on the ground" continually in the Fifth District, which covers South Carolina, North Carolina, Virginia, Washington D.C., West Virginia and Maryland. His engagement in the region has brought real attention to areas facing economic challenges.