First-Ever CIAA Virtual Tournament Week to be held Feb 23-27
Date: January 14, 2021
CIAA Virtual Vibe: Tournament Edition to feature cornerstone events and new, interactive offerings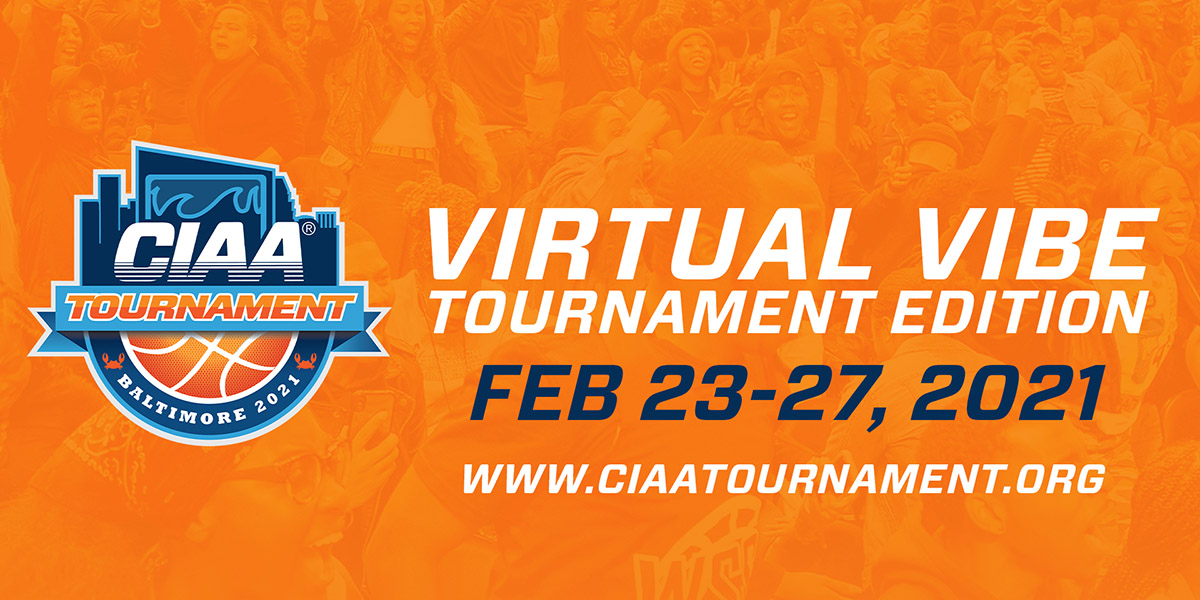 The Central Intercollegiate Athletic Association (CIAA), the nation's oldest historically Black athletic conference, in partnership with Visit Baltimore, today announced its first-ever virtual tournament. The highly anticipated week-long celebration will be tabbed the CIAA Virtual Vibe: Tournament Edition and takes place from February 23-27, traditionally known as CIAA Basketball Tournament week. The CIAA Virtual Vibe marks the Tournament's 76th annual celebration of HBCU championship basketball, sports, and culture. The third most attended basketball tournament among all NCAA divisions; it brings a legendary legacy and a community experience to a new, global audience.
The Tournament will spotlight each of its CIAA member institutions and offer VIP access to Fayetteville State University (FSU) on the virtual platform. Alumni, students and fans can visit the campus, participate in chats and exclusive events held by the FSU Broncos by purchasing a special 2021 Commemorative ticket at https://www.uncfsu.edu/community/seabrook. "This virtual experience will be a tremendous way for FSU alumni and friends worldwide to support our institution," said Interim Chancellor Peggy Valentine. "CIAA fans and followers from all over will get a chance to see first-hand that the Broncos know how to have a great time."
The CIAA Virtual Vibe: Tournament Edition will feature a Baltimore-themed interactive virtual platform that will help welcome fans to the 'Charm City' while showcasing a host of events, including several that serve as cornerstones of tournament week. This includes the always popular CIAA Fan Fest presented by Nationwide and the CIAA Step Show presented by McDonald's plus community engagement mainstays High School Education Day presented by U.S. Army and Career Expo presented by Toyota.
The virtual experience, hosted by comedians B. Simone, Darren Brand and Burpie, will also offer a collection of new events, including an Old School/New School DJ Battle and the CIAA Esports Tournament presented by Bayer Pharmaceuticals. These events, along with performances by national recording artists and celebrity appearances, will celebrate the legacy and tradition of the CIAA and its member institutions while highlighting the nostalgia and cultural significance of the CIAA Tournament.
Free registration for the Tournament is now open on the virtual platform and can be accessed here.
"We are thrilled to be able to create this virtual tournament week experience, which will be one of a kind for an NCAA athletic conference at any level, to engage our fans, alumni, students, member institutions, and partners," said CIAA Commissioner Jacqie McWilliams. "Despite no in-person activity or games being played, this is a great opportunity to expand our reach beyond the 150,000+ fans that annually convene in our host city during tournament week and expose new audiences to the legacy and rich tradition of this conference while introducing the many elements that embody the CIAA Tournament experience and highlighting the cultural impact it has on our community as a whole."
Accompanying this one-of-a-kind experience is a new theme, The Legacy Lives On, which will be highlighted in social media and marketing campaigns as well as custom memorabilia as the conference.
Fans and alumni can celebrate this historic occasion in style by purchasing the recently launched CIAA Legacy Fan Box, a collection of exclusive items shipped directly to their homes. On sale now through January 20, the limited-edition CIAA Legacy Fan Box will arrive in a custom-designed package just in time to enhance your CIAA Virtual Vibe experience in February. To learn more or purchase, visit the CIAA Legacy Fan Box information center here.
Access to the CIAA Virtual Vibe is free, but registration is required. Those interested in taking part in this unique virtual experience are encouraged to register early as space is limited. Accompanying the registration information is the tentative schedule of events, which can be found at www.ciaatournament.org.
For the latest information on the CIAA, visit theciaa.com. You can also like us on& Facebook, and follow us on Twitter and Instagram.
About the CIAA
Founded in 1912, the Central Intercollegiate Athletic Association (CIAA) is the first and longest-running, African American athletic conference in the U.S. and one of the most recognized conferences in Division II. The CIAA conducts 14 championships attended by more than 150,000 fans from around the country. In 2020, the conference celebrated the special 75th anniversary of its Championship Basketball Tournament - an event that has become a must-see in the African American community The Basketball Tournament has been honored as a Champion of Economic impact in Sports Tourism by Sports Destination Management, the leading publication with the largest circulation of sports event planners and tournament directors in the sports tourism market, for both 2018 and 2019, Headquartered in Charlotte, North Carolina, the CIAA is governed by the Presidents and Chancellors of its 12 member institutions: Bowie State University, Claflin University, Elizabeth City State University, Fayetteville State University, Johnson C. Smith University, Lincoln University of Pennsylvania, Livingstone College, Saint Augustine's University, Chowan University is an associate member in football and women's bowling. For more information on the CIAA, visit the ciaa.com, like us on Facebook and follow us on Twitter and Instagram.