Experience THIS: Business at FSU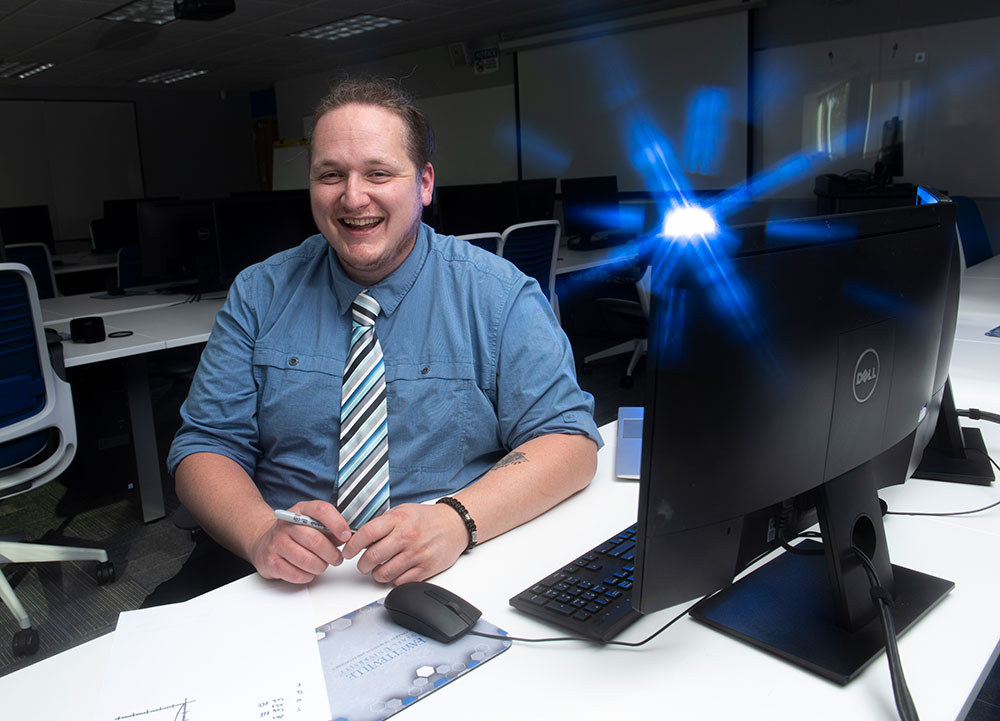 Story by Janet Gibson, photo by Cindy Burnham.
---
Daniel "Dan" Rundell had some great achievements while on his journey to earn his Bachelor's degree in Business at FSU, including an award-winning drones project and competing in "Battle of the Brains" in Austin, Texas.
But toward the end of his management studies, he admits "just going through the motions." Dan thought he might use his degree to become a retail store manager, tops, he says with zero excitement.
And then everything changed for him.
Professor Burcu Adivar recognized that "management" wasn't Dan's passion, but numbers and data science were clearly his strengths. She suggested that he pursue an MBA, but also explore the SAP certification program, which stands for Systems, Applications and Products, a software program used by top companies and the military to track customer and business interactions.
FSU is the only university in the state to offer SAP and its unique NextGen Lab is the only one in the Southeast. Under the direction of Dr. Murat Adivar, the 18-week immersion is offered through the Broadwell School of Business & Economics and attracts students from throughout the U.S.
"It was a dramatic change in the trajectory I was following. It was life-changing," says Dan, who had previously served in the U.S. Army as a Special Forces parachute rigger.
Dan passed the rigorous SAP final exam in May 2019. Even though he had not applied, he was offered an internship in operations for Mann+Hummel, one of the largest makers of filtration systems in the world. Credit FSU for building strong relationships with companies that hire SAP-certified students, often at high-paying salaries.
Nine months into his internship, Dan was offered a full-time position as a Financial Analyst with Mann+Hummel. He loves his job and enjoys going to work every day.
He also ended up earning his MBA in May 2021 and won first place in the MBA Showcase.
Dan says he isn't done yet - because learning is an lifelong process. He is excited about pursuing his Doctorate in the near future.
---
Apply today!
We would love to have you join the Bronco family.
Contact Admissions and Enrollment to learn more