Experience THIS: Forensic Science at FSU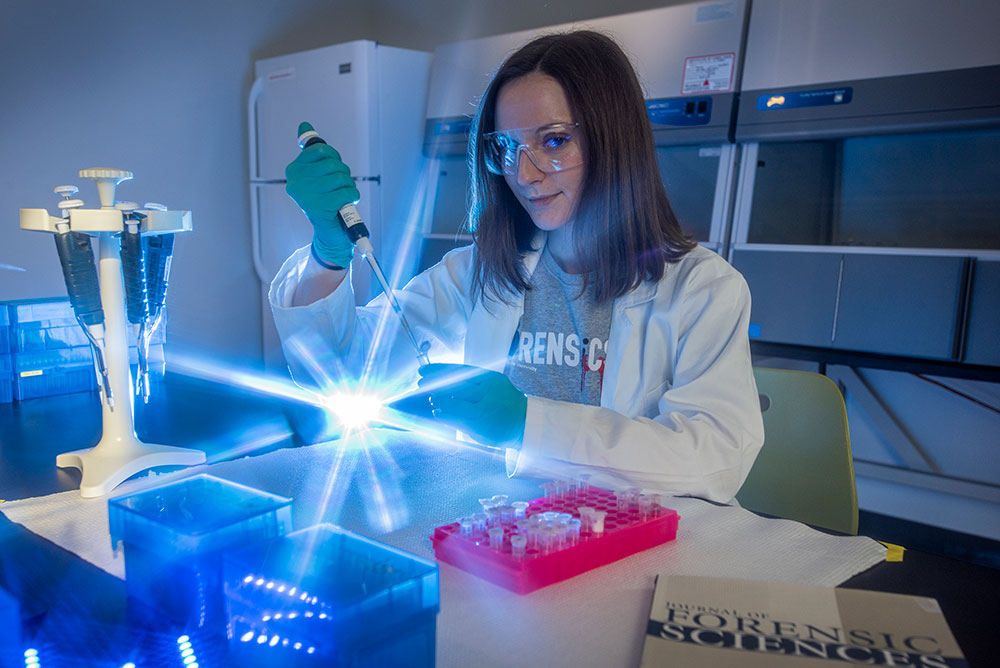 Story by Janet Gibson, photo by Cindy Burnham.
---
Laura Schumaker, a senior with a 4.0 GPA in Fayetteville State's School of Forensic Science, points out that the curriculum's first lesson cuts straight to the chase: This is not like the "CSI" that you watch on TV.
It's actually more fascinating, more challenging and much more fulfilling.
Laura feels "so lucky" that she discovered her passion at FSU. She and her husband, who serves in the U.S. Army, had relocated to Fayetteville. Her interest had long been in earning her Bachelor's degree in Forensic Science. FSU offers the only undergraduate program in North Carolina that has earned accreditation from the prestigious Forensic Science Education Programs Accreditation Commission (FEPAC).
Everything contained in FSU's forensics lab is state-of-the art - from high-powered microscopes to thermal cyclers to a DNA genetic analyzer. "We have been provided with everything that you would find in a fully equipped crime lab."
And there's the personal touch, too. "My teachers know me by name, it is a one-on-one experience, and I am less of a number than I'd be at a bigger school ...we are given real-world experience."
"My dream job is to be a DNA analyst for a crime lab," adds Laura. Thanks to an engaged FSU faculty and high-tech tools, she is well on her way. Laura has been accepted into the Master of Forensic Sciences (M.F.S.) in Forensic Molecular Biology program at George Washington University in Washington, D.C.
"I couldn't have done it without Fayetteville State and the recommendations of my professors."
---
Apply today!
We would love to have you join the Bronco family.
Contact Admissions and Enrollment to learn more