Experience THIS: Marching Band
"The FSU experience prepares us to be professional musicians."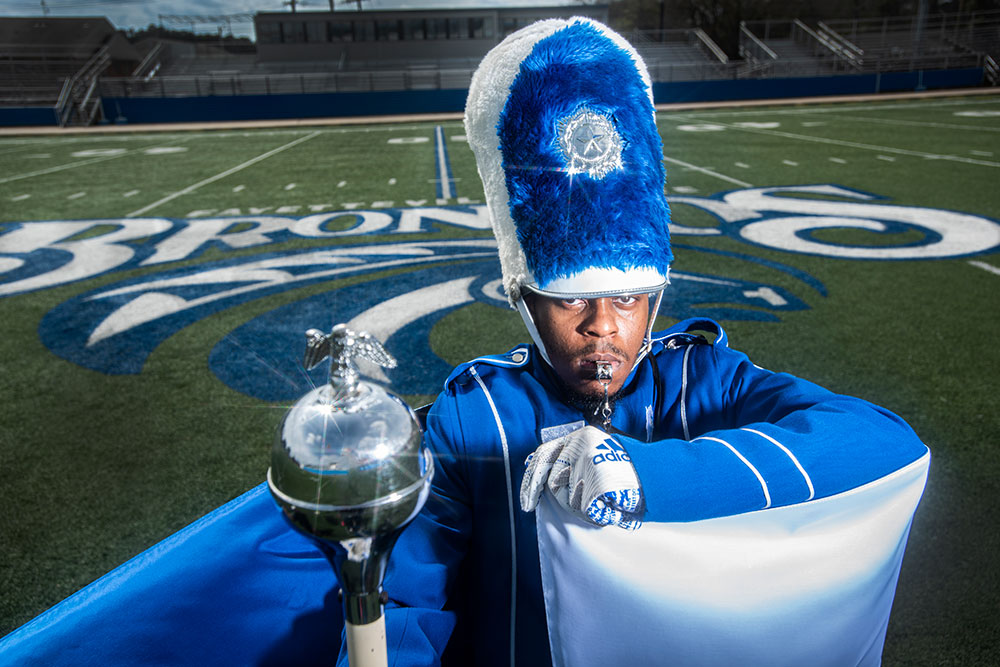 Story by Janet Gibson, photo by Cindy Burnham.
---
Bryan "Flip" Flippin never imagined that one of the benefits of becoming a part of Fayetteville State's Marching Bronco eXpress would be chatting with the President of the United States.
But there he was, President Bill Clinton at FSU to speak. The year was 2016. Flip was a freshman horn player when he struck up a conversation with the former Commander-in-Chief by asking if he was still playing the saxophone. With signature Clinton charisma, he shook Flip's hand and looked at him like he was the only person in the room. And, yes, the President still enjoyed playing the sax.
But that wasn't the only brush with fame for Flip. When President Barack Obama spoke at FSU to endorse Senator Hillary Clinton for the nation's top post, Flip and the MBX were there - performing The National Anthem. Another time, the band played for First Lady Dr. Jill Biden. Flip and band members also got to meet the Rev. Al Sharpton on-campus. CIAA basketball tournaments provided other exciting encounters or sightings, including a bevy of sports and entertainment celebrities.
Flip, who was awarded the Head Drum Major position a few years back, calls the marching band "one big family." He says there is no feeling like suiting up to perform. The superhero cape. The tall hat. The whistle and staff. And an electric energy from the very first note of a performance. "It is a thrill."
Graduate school in Illinois is on the horizon for the senior Instrumental Music Education major who aspires to be a collegiate band director. Whatever the future holds, he will be ready. "The FSU experience," he says, "prepares us to be professional musicians."
---
Apply today!
We would love to have you join the Bronco family.
Contact Admissions and Enrollment to learn more