Experience THIS: Nursing at FSU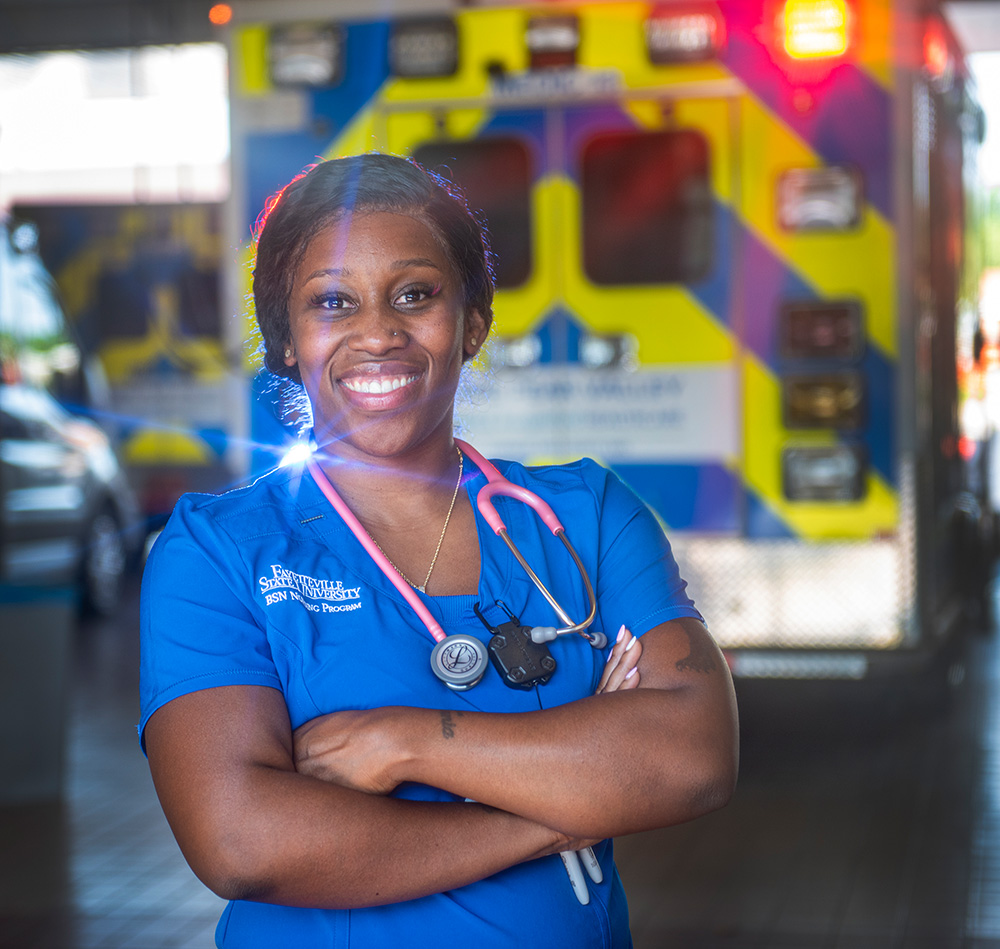 Story by Janet Gibson, photo by Cindy Burnham.
---
Fayetteville State nursing junior Britanica Williams will never forget the pain in the widow's eyes. "How she looked at me, and I felt like, if I don't help her, who will? Fluid was building up ... and she was pleading to have her legs wrapped. I always ask myself, 'What if this was my family member? What if this was my grandmother?'"
Britanica says that moment in time - a chance to help someone in need - is what she has long known is her life's purpose. As part of VACOM, or Veterans in the Community Project, FSU nursing students like Britanica are paired with faculty mentors who are also Veterans and peer tutors. Their patients - Veterans or their spouses - are recovering at home after being discharged from Cape Fear Valley Medical Center.
When Britanica was only 16, she sat at the bedside of her own grandmother who was hospitalized for multiple health problems. "I'd have her repeat to me exactly what the doctor told her, and then I'd play Dr. Google. I promised her, 'I'm going be a nurse one day. And I would tell her, 'Grandma, I'm your Voice.'"
But sometimes life has a way of first taking us down a different path. For Britanica, it meant a stint in the Navy, where she received some nursing training and also earned an Associate degree in Accounting. Afterward, she went on to receive Bachelor's and Master's degrees in Accounting, thinking that a career crunching numbers might be the best for her family and she would grow to love it.
In 2018, she was still longing to be a nurse. "The time was finally right," she says, and enrolled full-time at FSU's School of Nursing. Britanica, 33, is married to a retired disabled Veteran, and the couple have two children. She juggles full-time classes with her busy home life and a full-time accounting job on Fort Bragg.
Britanica laughs easily - and cries tears of joy, too - after she has helped someone in need on her rounds. "Many of these patients have no voice," she says. Finally, she is inching closer to pursuing her passion with a projected graduation date of 2022. She believes her late grandmother would be proud. A promise kept.
---
Apply today!
We would love to have you join the Bronco family.
Contact Admissions and Enrollment to learn more