Fayetteville State University Alumna and MBA Candidate Begins Job with NASA
Date: January 25, 2019
Masceline Petitlubin, a 2012 Fayetteville State University (FSU) chemistry graduate and current Master of Business Administration (MBA) candidate in the Broadwell School of Business & Economics, began full-time position with NASA on January 22.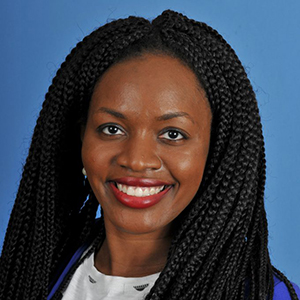 Petitlubin was offered a position within the Information and Logistics Management Division of the National Aeronautics and Space Administration (NASA) as a Logistics Management Specialist under their Pathways program. The Pathways program comes with an automatic career ladder and affords Petitlubin the opportunity to gain the necessary training and development required for her position while pursuing her MBA.
Born in Haiti and raised in Washington, D.C., Petitlubin acquired an extensive amount of research experience, to include time at Argonne National Laboratory, and participated in various programs such as NCLSAMP and I-TEST during her undergraduate years. Her growth through these experiences developed into a passion to support the youth both academically and socially. As the owner of the Science, English, and Mathematics Academy (SEMA), she provides tutorial services to PreK through 12th grade students in various subject areas. Additionally, she is the co-author of the STEM Learning Communities, which examined one of the strategies set in place to increase enrollment, retention, and graduation in the STEM disciplines at FSU. She carries with her over 10 years of professional experience in the education sector to include time as a staff member with the Department of Sociology since 2015.
Petitlubin received full support from the Center for Defense and Homeland Security throughout the entire hiring process. "The Center for Defense and Homeland Security provided me with resume writing assistance, interviewing prep work, internship searching strategies and tips, and a space to conduct my interview," said Petitlubin.

Petitlubin hopes to gain professional experience in her new role and she hopes to pave the way for other FSU students to be selected for similar opportunities at NASA.

About Fayetteville State University
Fayetteville State University is a constituent institution of The University of North Carolina and the second-oldest public institution of higher education in the state, having been founded in 1867. FSU offers degrees at the baccalaureate, master's, and doctoral levels. With more than 6,300 students, Fayetteville State University is among the most diverse institutions in the nation. To learn more about Fayetteville State University, visit https://www.uncfsu.edu. Chancellor James A. Anderson is the 11th chief executive officer.