FSU Announces Changing of the Keys Ceremony for "Bronco Square" shopping mall is under 100% FSU Ownership
Date: October 12, 2021
Fayetteville State University held a "Changing of the Keys Ceremony" on Tuesday, October 12, 2021, at 8:30 a.m.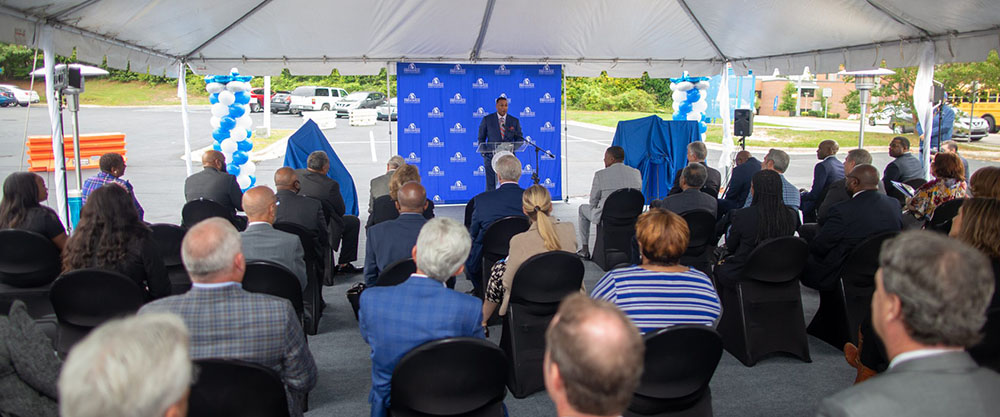 Fayetteville State University (FSU) announced the $5 Million 100% debt free acquisition of "Bronco Square" shopping mall located at 1047 Murchison Road. To celebrate this momentous occasion, the university held a "Changing of the Keys Ceremony" on Tuesday, October 12, 2021, at 8:30 a.m. EST.
"Fayetteville State University is at the heart of one of the fastest growing regions in the state, the Sandhills Region. Undoubtedly, when most think of FSU, they think of an academic institution, and they should; however, what makes today truly special is that FSU is equally an economic engine for the greater Fayetteville and Sandhills Region as well," says Darrell T. Allison, Chancellor.
For the last 20 years, the FSU Bronco Square has been home to many businesses with FSU maintaining a 50% partnership. The revitalized Bronco Square building is roughly 32,480 square feet and includes a new parcel of land. The current bookstore will now be converted to become the FSU Innovation & Entrepreneurship Hub - a 6,500 square foot space supporting small businesses and entrepreneurs (scheduled to open in May of 2022) including conference rooms, training capacity for up to 40 people, and 184 parking spaces.
Today, Aramark, FSU's dining partner, announced that the university will not only build a free-standing fully operational new Starbucks on campus, but plans to also build a new Chick-fil-A in the Bronco Square location. In 2020, Aramark and FSU opened a McAllister's Deli in the same shopping center.
Trevor Ferguson, President of Aramark Higher Education, stated, "As Aramark and FSU look forward to expanding their partnership, we are excited to announce plans to develop a new Chick-fil-A at Bronco Square and a new Starbucks on the main campus of FSU. We are actively engaged with Chick-fil-A and Starbucks regarding our plans and look forward to having more details to share in the future."
Tuesday's changing of the keys event is symbolically being held during "FSU's 2021 All About the Blue: Homecoming" week. The event included remarks from FSU Chancellor Darrell T. Allison; Wesley Fountain, FSU Associate Vice Chancellor for Community Relations and Economic Partnerships; Gary Ciccone, local business leader; Ulysses Taylor Chair, Chair, FSU Development Corporation and Interim Dean of the Broadwell College of Business and Economics; Scott Hamilton, President of the Golden LEAF Foundation; Glenn Adams, Chair of the FSU Board of Trustees, FSU Endowment Board, and the Cumberland County Board of Commissioners; and the Honorable Mitch Colvin Mayor, City of Fayetteville. Speakers will be available for interviews following the event.