Fayetteville State University Announces Systems Applications and Products Certification Academy
Date: October 26, 2018
Fayetteville State University (FSU) is hosting a Systems Applications and Products (SAP) Certification Academy during the Spring 2019 semester.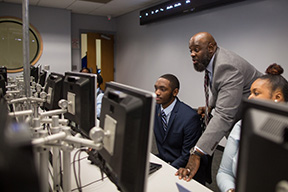 FSU is a full member of the SAP University Alliance and the sole North Carolina Institution offering the SAP Certification Program in partnership with SAP Americas and SAP Germany. There are only 17 universities in the United States authorized through this program to prepare participants for the job market's high demand SAP Certification.

The SAP Certification Academy is a strong professional program that assists full time FSU students and specially-enrolled business professionals to understand how a highly integrated SAP ERP system can favorably impact business processes and companies' performance.

During the semester-long four (4) course, 12 credit-hour educational program, participants will use advanced technology in the new SAP Next-Generation Lab to master SAP ERP software and learn how to integrate complex business processes using the SAP ERP system. The training is followed by an intensive 10-day bootcamp and completion of the official certification exam released by SAP Germany.

In 2018, the Broadwell College of Business and Economics held an SAP certification boot camp that included students from across the United States. Approximately 90 percent of the students who attempted the SAP certification exam passed it on the first try. This far exceeds the global SAP certification exam success rate of 65 percent.

On November 1, 2018 an interest meeting will be held at 2:00 p.m. in the Broadwell College of Business and Economics Building on Grace Black Circle for anyone interested in applying to the program.

For further information about the SAP Certification Academy and SAP Program at FSU please visit www.uncfsu.edu/SAP-UA or contact Dr. Constance Lightner at clightner@uncfsu.edu or (910) 672-1310.

About SAP ERP and SAP University Alliance
SAP ERP is enterprise resource planning software developed by the German company SAP SE. SAP ERP incorporates the key business functions of an organization. SAP University Alliances is a global program enabling more than 3,500 educational institutions in over 113 countries to integrate the latest SAP technologies into teaching.

Fayetteville State University

Fayetteville State University is a constituent institution of The University of North Carolina and the second-oldest public institution of higher education in the state, having been founded in 1867. FSU offers degrees at the baccalaureate, master's, and doctoral levels. With more than 6,300 students, Fayetteville State University is among the most diverse institutions in the nation. To learn more about Fayetteville State University, visit https://www.uncfsu.edu. The Broadwell College of Business and Economics is an AACSB accredited program offering a range of undergraduate and graduate programs online and on campus.