FSU Broncos Bench Gets a Tune-up in 91-62 Win over Carver
Date: January 21, 2020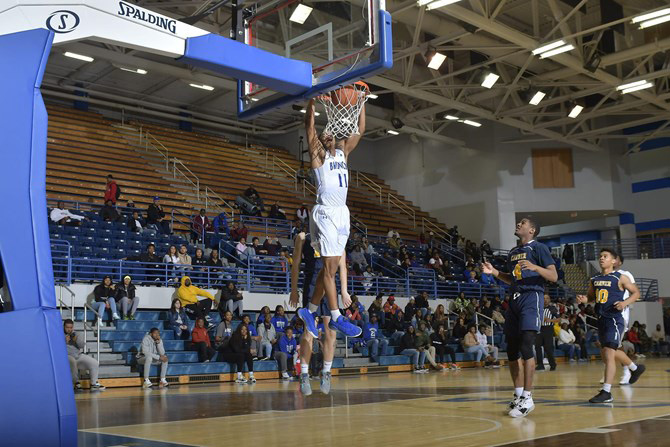 Fayetteville State (16-3 overall) wiped the floor, 91-62, with National Christian College Athletic Association Carver College in Capel Arena on Saturday afternoon.
Jalen Seegars (Greensboro, NC) led the game with 20 points while all but one, Bronco who played, scored. Ty McLean (Goldsboro, NC) followed Seegars with 12 points and Raymon Pratt finished with 11.
From the initial jump ball, both teams traded baskets with FSU taking an early 14-6. The Cougars would eventually cut the game down to one (24-23, 9:42) until a layup by Pratt with 5:14 left in the half would give the Broncos its first double-digit lead of 11 points (40-29) and a halftime advantage of 46-34.
After a few adjustments following intermission, Fayetteville State's lead jumped to 19 (58-39) after a 12-2 run over two-and-a-half minutes. Seegars sparked the run with back-to-back threes while Pratt finished it with a fast-break three. A minute late, a jumper by Pratt would give FSU a 20-point advantage (60-40; 12:00).
Fayetteville State would reach its largest lead of 29 points (81-52) behind back-to-back three-balls from Greg Joyner.
Denzell Hosch (Shelby, NC) didn't score but it was intentional. He played a total of nine minutes in the first half.
Keith Krouser led Carver with 13 points and Chris Iverson topped off with 12. Antonio Gardner had 11 points.
Fayetteville State will host Virginia State in a conference matchup on Wednesday, January 22nd at 7:30 p.m.