FSU Graduate Council Members Present at Conference of Southern Graduate Schools Annual Meeting
Date: March 04, 2022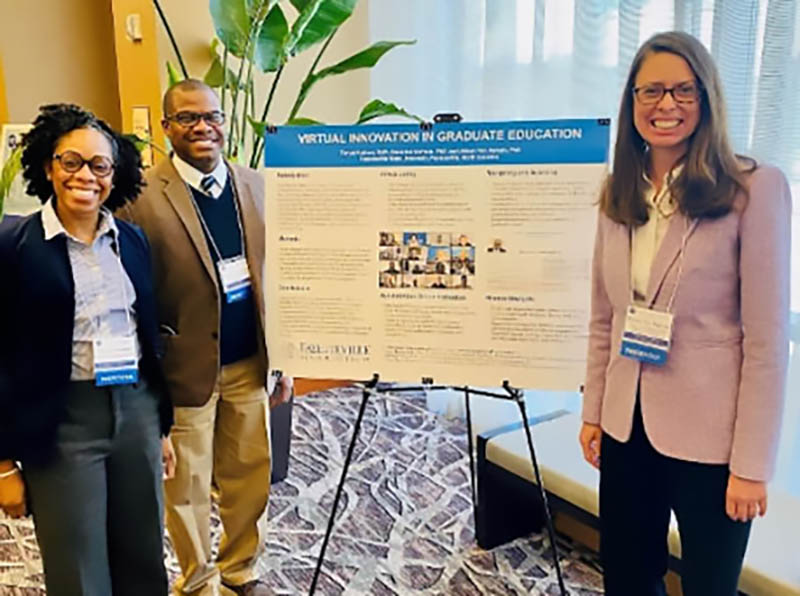 Three Fayetteville State University Graduate Council members recently presented at the 2022 Conference of Southern Graduate Schools. The collaborative presentation, "Virtual Innovation in Graduate Education," detailed novel methods the graduate school has designed, developed and implemented to further expand and improve learning options and opportunities for its ever-growing distance learning populations.
The cross-disciplinary approach included the FSU College of Education, School of Social Work and a showcase of over-arching virtual innovation for the entirety of the Graduate School. Presenters included:
Tanya Hudson, Ed.D., interim chair and associate professor of Early Childhood, Elementary, Middle Grades, Reading and Special Education, in the College of Education discussed the college's virtual lobby and synchronous online instruction.
Quienton Nichols, Ph.D., associate dean and associate professor of Social Work, in the School of Social Work, discussed the school's mentoring and advising as well as FSU's launch of the EAB Bronco Navigate platform.
Alison Van Nyhuis, Ph.D., director of the Graduate School and Program Review and professor of English, discussed FSU's graduate programs, including fully online graduate courses and degrees, and the ways in which FSU has invested in technology to support virtual innovation for all graduate academic programs.
FSU's virtual innovation in graduate education, including usage of prospective graduate students' communications tool AdmissionPros, online graduate orientation sessions and processing graduate assistantships through PeopleAdmin, supports the core values of adaptability and collaboration that have become increasingly important to promote graduate students' academic and professional success.
For additional information, visit www.uncfsu.edu/grad.