FSU Holds Pre-Law Society Induction Ceremony and Honors NC Trailblazer Judge Ola M. Lewis
Date: April 20, 2022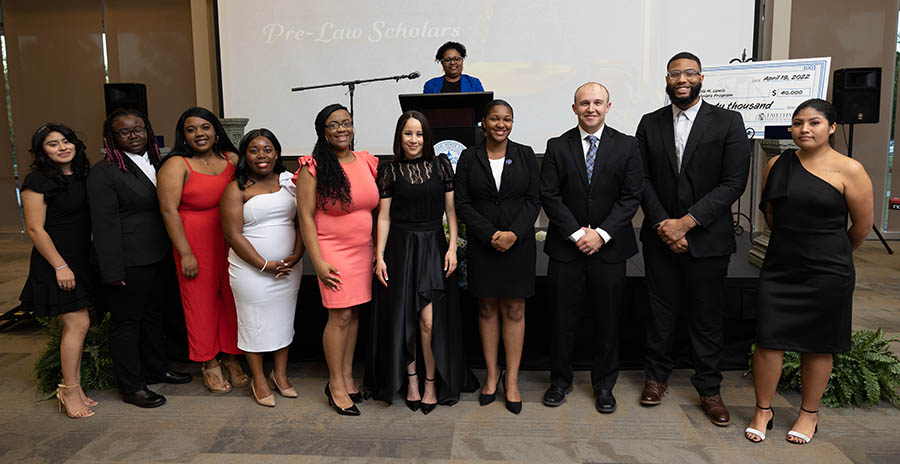 Above, Pre-Law scholars: Jadelyn Velasquez, Kennedi Shelton, Armoni Moore, Maya Martin, Zha'bria Marquez, Lihan Harris, Deja Clark-Drew, Bryce Bull, Elijah Brake, and Nicol Ayala.
---
Budding law students were honored and welcomed into the Fayetteville State University Pre-Law Scholars Program, April 19, during a reception hosted by Chancellor Darrell T. Allison. The event honors graduates of the society and formally introduced scholars who will be immersed in paid internships for the next two semester, given LSAT preparation and participate in a mock summer law school experience.
Held in the Rudolph Jones Student Center, Pre-Law Society president Elijah Brake provided a welcome and opening remarks along with Allison, who elaborated on the significance of the program and vitality of its newest members. The Honorable Cheri Siler-Mack of the 12th Judicial District Court and Honorable Richard Dietz of the North Carolina Court of Appeals served as guest speakers for the evening.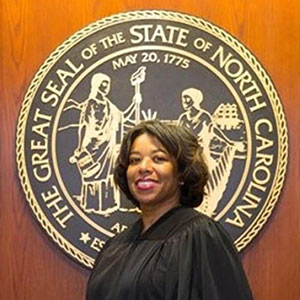 In addition to welcoming the first class of pre-law scholars, the university honored the life and legacy of the late Judge Ola M. Lewis, for her trailblazing role as a long-standing officer of the court and moreover, the longest-serving female judge in the history of North Carolina. Lewis was a proud FSU alumna and staunchly supported her alma mater.
"Our pre-law scholars are living examples of this university's mission to provide a premiere educational experience and internship opportunities that will certainly advance their careers. Tonight, as we honored the late Judge Lewis at her beloved alma mater, we connected our past to our future and invited our community to join with us in investing in the success of FSU," said Chancellor Allison.
At the event Chancellor Allison established the Judge Ola M. Lewis Pre-Law Scholars Program Scholarship with an initial investment of $40,000.
The university presented Lewis' family with the Crystal Bronco award and special tributes were given by UNC System Board of Governors member, Mike Williford, and FSU Board of Trustees Chairman, Glenn B. Adams.
FSU's dynamic pre-law society and pipeline program boasts a 91% acceptance rate among pre-law advised students and alumni. Participants have been admitted to law schools around the country including, Campbell University, Elon University, Florida Agricultural and Mechanical University, George Washington University, Howard University, Indiana University, North Carolina Central University, University of Florida, University of North Carolina at Chapel Hill, University of South Carolina, Texas Southern University, Wake Forest University, William and Mary and many others.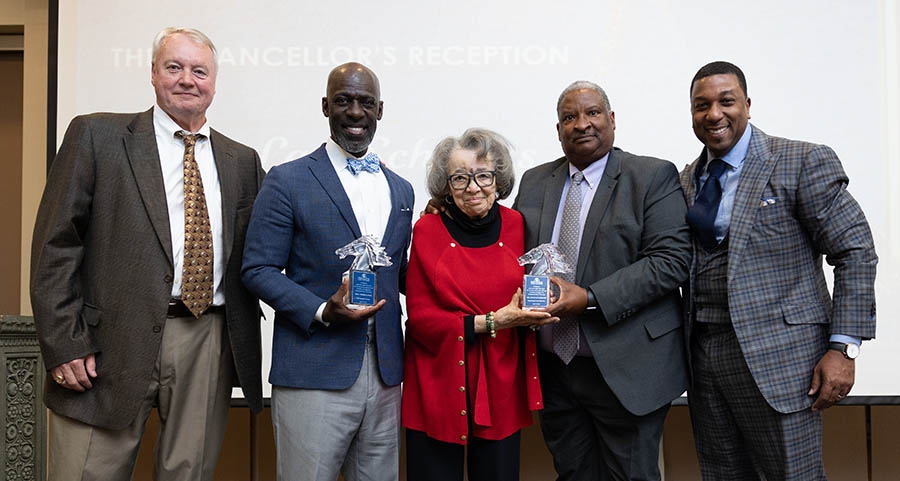 UNC System Board of Governor's member, Mike Williford, Lewis' family members, FSU Board of Trustees Chairman Glenn B. Adams, and Chancellor Darrell T. Allison.