Fayetteville State University was proud to host the North Carolina Campus Compact 2018 CSNAP Student Conference
Date: December 06, 2018
The 2018 CSNAP (Citizenship, Service, Networking and Partnerships) Student Conference facilitated by North Carolina Campus Compact was hosted at Fayetteville State University on November 9 – 10, 2018.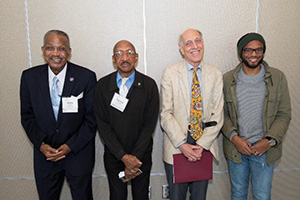 This year's theme was "The Power of Youth Civic Courage: From the Civil Rights Movement to Today." On Friday night, November 9th, FSU commenced the event with guest speaker Mr. Mychal Denzel Smith, New York Times best selling author of Invisible Man, Got the Whole World Watching, a 2017 NAACP Image Award Nominee and consulting producer of the Trayvon Martin documentary, who spoke on Finding Your Inner Political Voice. There were nearly 150 students, faculty, and staff from 24 campuses in North Carolina and beyond that attended the conference. In collaboration with the Fayetteville chapter of Operation Supply Drop, conference participants had the opportunity to write cards/notes to encourage currently deployed troops.

This year's CSNAP Student Conference opened its first plenary session with a panel discussion with Dr. Eric Hyman, Professor of English, Fayetteville State University; Dr. Stanley Johnson, Professor of History, Fayetteville State University; Dr. Willis McLeod, Chancellor Emeritus, Fayetteville State University; and Mr. Mychal Denzel Smith, New York Times Bestselling author and television commentator.

There were 21 different workshops conducted by students and staff on topics such as volunteerism, leadership, service-learning, social entrepreneurship, advocacy and activism. One workshop entitled "Student Athletes: Social Activism History and Future Dribbling, Passing, Running, Catching and Community Engagement Too" was facilitated by Fayetteville State University Department of Educational Leadership: Ms. Naadiya Hopkins, Doctoral Candidate, Dr. Julian Capel, recent graduate, and Dr. Noran L. Moffett, Professor.

During the CSNAP Student Conference outstanding students are recognized for community involvement with the Community Impact Award. With this award NC Campus Compact recognizes students at NC Campus Compact member schools who display outstanding leadership and innovative approaches in their civic engagement efforts. This year eighteen students were honored, joining more than 288 individuals recognized since the award was first presented in 2006. Ms. Julia Downing was recognized as Fayetteville State University's Community Impact Award winner.

We look forward to next year's conference in early November 2019 at a NC Campus Compact member institution, yet to be named.

About North Carolina Campus Compact
North Carolina Campus Compact is a collaborative network of 37 colleges and universities committed to educating students for civic and social responsibility, partnering with communities for positive change, and strengthening democracy. The NC Campus Compact state office fosters connections between campuses, shares best practice information and resources, recognizes outstanding work, and champions civic and community engagement in higher education. Founded in 2002 and hosted by Elon University, the North Carolina network is an affiliate of national Campus Compact, which claims 1,000 member schools representing nearly 2 million college students.

About Fayetteville State University
Fayetteville State University is a constituent institution of The University of North Carolina and the second-oldest public institution of higher education in the state, having been founded in 1867. FSU offers degrees at the baccalaureate, master's, and doctoral levels. With more than 6,300 students, Fayetteville State University is among the most diverse institutions in the nation. Chancellor James A. Anderson is the 11th chief executive officer. To learn more about Fayetteville State University, visit https://www.uncfsu.edu.
Tags:
College of Arts and Sciences
News