FSU McNair Scholars Find Success in Post-Baccalaureate Achievements
The McNair Scholars Program is a federally funded TRiO program at over 150 institutions across the United States and Puerto Rico by the U.S. Department of Education. We accept students from underrepresented segments of society and prepare them for graduate school entry.
Date: August 24, 2022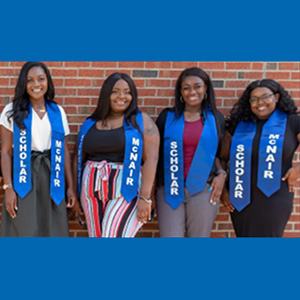 Fayetteville, N.C. (August 24, 2022) — Nineteen graduates of the Ronald E. McNair Post-Baccalaureate Achievement Program (McNair Scholars Program) at Fayetteville State University (FSU) earned advanced degrees or are expanding their educational opportunities.
In all, six 2022 graduates of the program will begin post-baccalaureate graduate programs; three former participants accepted research internships; three will begin their doctoral programs; and eight recently graduated with a doctoral or master's degree.
The Ronald E. McNair Post-Baccalaureate Achievement Program enables McNair Scholars to work one-on-one with a faculty mentor to conduct a research project. McNair Scholars are in residence at FSU during the summer and a FSU faculty mentor is identified to work closely with the student to conduct their research. In addition, McNair Scholars receive GRE and graduate school preparation workshops along with other professional development seminars and scholarly activities.
The McNair Scholars Program is named in honor of Dr. Ronald E. McNair, the second African American to fly in space and one of the seven-person crew who died on the ill-fated Space Shuttle Challenger on January 28, 1986. It is one of the TRiO programs federally funded by the U.S. Department of Education to provide a comprehensive Ph.D. preparatory program for first-generation, low-income, and/or underrepresented minority college students to pursue graduate studies.
"We are extremely proud of the hard work and accomplishments of our McNair Scholars, both past and present," said Charlesene McNeill-Blue, Ph.D. program director for the McNair Scholars Program. "It's extremely gratifying to help our students realize their dream of pursuing graduate studies. We are committed to opening doors of opportunity for every student, especially our first-generation and those from underserved and underrepresented communities. So often graduate school is out of reach for many talented students looking to do more. These programs make a significant difference in their preparation for and access to quality graduate programs."
For more information, please contact McNair Program Office at (910) 672-2162.
2021-2022 McNair Ed.D./Doctoral/Master's Graduates
· Dr. Desiree Moore, 2016 McNair Cohort, Doctor of Veterinary Medicine from Virginia College of Veterinary Medicine/Virgina Polytech University
· Dr. Shamma Hickling, 2011 McNair Cohort, Doctor of Philosophy in Criminal Justice from University of Cincinnati, State of Ohio
· Dr. Sonya Worthington, 2011 McNair Cohort, Doctor of Philosophy in Sociology from University at Albany, State of New York
· Brittany Anderson, 2017 McNair Cohort, Master of Science – Microbiology from University of Massachusetts at Amherst
· Erykah Briggs-White, 2017 McNair Cohort, Master of Business Administration from University of Alabama Birmingham
· Jessie Cook, 2018 McNair Cohort, Master of Science from University of Illinois – Urbana Champagne
· Andre Harris, 2018 McNair Cohort, Master of Social Work from University of Houston
· Neysa Wellington, 2018 McNair Cohort, Master of Fine Arts from Temple University
2021-2022 FSU McNair Graduates & Graduate Program Acceptances
· Charles Carter, Attending to Liberty University MS program
· Diamond Cooper, Attending Tennessee State University MS program
· Sy'Keria Garrison, Attending University of North Carolina at Chapel Hill Ph.D. program
· Adrianna Fields, Attending North Carolina State University MS program
· Alexis Walker, Attending Fayetteville State University MS program
· Layla Rashad, Attending Old Dominion University Ph.D. program
Former FSU-McNair Scholars Acceptances for Fall 2022 Doctoral Programs
· Neysa Wellington, 2018 McNair Cohort, Attending Documentary Arts & Visual Research Ph. D. Program, Temple University College of Theater
· Demetria Murphy, 2019 McNair Cohort, Attending Doctor of Criminal Justice Program, Northcentral University
2021 – 2022 Extramural Internships Acceptances
· Nathlita Karnely, Attending Lincoln Summer Research Program Crop-to-Food Innovation/USDA NIFA
· Ryan Noah, Attending Public Health Entomology For All (PHEFA) Center for Disease Control and Prevention
· Tatyanna Montgomery, Attending Human Neuroscience REU Program Georgia Tech/Georgia State University