FSU Officially Names College of Health, Science and Technology to Honor Alumnus, Philanthropist and Trailblazer, Dr. Clarence E. Lloyd, Jr.
Date: March 31, 2022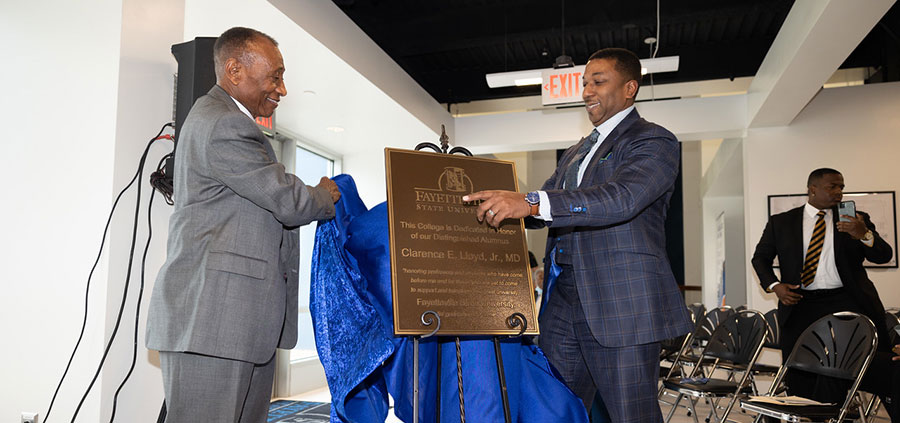 In a much-anticipated ceremony, Fayetteville State University recently honored alumnus Dr. Clarence E. Lloyd Jr, '65 for his dedication and philanthropic gifts to the university by way of bestowing his namesake upon the College of Health, Science and Technology.
During its December 2019 meeting, the FSU Board of Trustees voted to officially name the academic college the Clarence E. Lloyd Jr., M.D. College of Health, Science and Technology following the retired radiologists' generous donation of $500,000 to the university.
The original naming ceremony was delayed due to the COVID-19 pandemic, however, on March 24, a host of FSU leaders, family and friends from the Class of 1965 celebrated Lloyd's benevolence and sincere dedication to his alma mater in a momentous ceremony of appellation.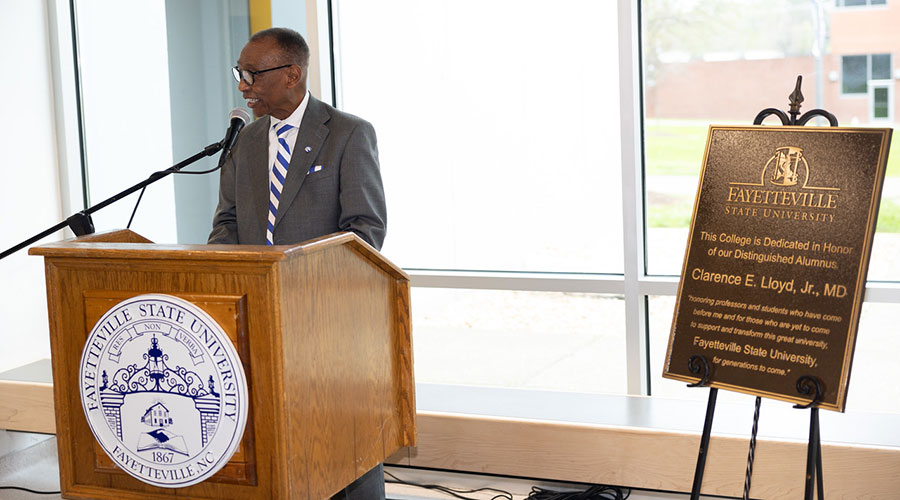 "I'm excited that this day has finally come and that I could have my family and classmates here to support me," said Lloyd. "My heart has always been and will forever be with Fayetteville State University."
Adding to his tremendous support, Lloyd announced intentions of gifting an additional $400,000 to support the newly named college. With this new pledge, Dr. Lloyd's commitment to FSU has reached $1 million, which is one of the largest commitments by an alumnus in the school's history.
"Dr. Lloyd has extraordinarily and continually shown strong devotion and dedication to FSU time and time again. This honor speaks to more than the actual size of Dr. Lloyd's combined contribution and financial commitment to FSU. It speaks to his true heart and deep passion for our great institution: For where your treasure is, there your heart will be also," said Chancellor Darrell T. Allison. "Therefore, it is only befitting that the college cites the name of one of our storied university's most profound alumnus, philanthropist and trailblazer."
The half million-dollar gift is Lloyd's second major gift to FSU. In 2015, he donated $100,000 to the university.
"We are very grateful for Dr. Lloyd's generosity and will make sure that he witnesses a significant return on his investment," said Chris Davis, interim vice chancellor for University Advancement. "We are producing some great young leaders in the sciences that aspire to do great things like Dr. Lloyd. His giving and personal journey has truly inspired them to press on."
A native of Williamston, North Carolina, Lloyd earned a bachelor's degree from FSU. He taught high school for a year before going to North Carolina Central University in Durham, where he earned a master's degree in molecular biology in 1968. After a stint teaching in higher education, he earned a medical degree from the University of North Carolina at Chapel Hill in 1974. From 1975-78 he specialized in radiology at Bowman-Gray School of Medicine where he was the first minority to finish the program at the school. Lloyd also served in the United States Army Reserves where he participated in Operation Desert Storm and Operation Iraqi Freedom. He retired as a colonel after 20 years.