Fayetteville State University Participates in 2019 NC Transportation Summit
Date: January 25, 2019
On January 9-10, the North Carolina Department of Transportation (NCDOT) organized a two-day summit connecting leaders from around the state, including policy makers, universities, transportation and industry experts, and representatives from city and county governments to discuss the future of transportation and emerging technologies.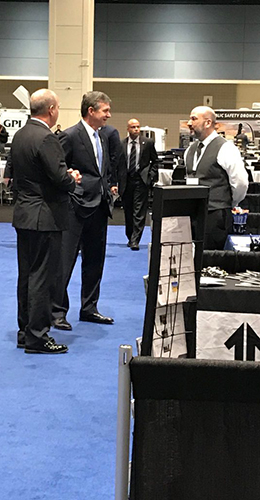 As one of the most proactive state agencies in recruiting HBCU faculty for research contracts and in recruiting HBCU students for employment, the NCDOT invited Fayetteville State University (FSU) to participate as an exhibitor.

The summit took place at the Raleigh Convention Center, attracted more than 1,000 people, and included national thought leaders across the transportation spectrum. FSU was represented by Dr. Burcu Adivar, Assistant Dean of the Broadwell College of Business and Economics (BCBE); Master of Business Administration Admission Director John Scarsella; Greg McElveen, Interim Assistant to the Provost; and Dr. Sambit Bhattacharya, Associate Professor of Computer Science. These FSU faculty and staff members interacted with Governor Roy Cooper, City of Charlotte Mayor Vi Lyles, Chairman of the State Board of Transportation Commissioners Michael Fox, and with key staff from the NCOT Office of Strategic Initiatives, the Office of Civil Rights, and the Office of Workforce Development.

NCDOT personnel expressed interest in collaboration to increase FSU participation in NCDOT research, internships, capstone projects and special work force development programs for veterans and transitioning soldiers. One area of interest was the BCBE's SAP Next-Gen Lab, the only such lab in the state. The SAP (Systems Applications and Products) NextGen Lab connects students, researchers, and startups with SAP customers and partners to develop new technology innovations that are linked to the 17 UN Global Goals.

Private sector collaboration opportunities were also discussed with such transportation technology leaders to include SAP, SAS, 3M and Volker.

For more information on the broad range of collaboration opportunities available through the NC Department of Transportation, contact Adivar at badivar1@uncfsu.edu or McElveen at gmcelvee@uncfsu.edu. For more information on the conference, see https://ncvisionzero.org/expo/conference-agenda/.

About Fayetteville State University
Fayetteville State University is a constituent institution of The University of North Carolina and the second-oldest public institution of higher education in the state, having been founded in 1867. FSU offers degrees at the baccalaureate, master's, and doctoral levels. With more than 6,300 students, Fayetteville State University is among the most diverse institutions in the nation. To learn more about Fayetteville State University, visit https://www.uncfsu.edu. Chancellor James A. Anderson is the 11th chief executive officer.