FSU professor secures third funding award from the National Science Foundation
Zhu looks to protect crops from harsh environmental threats, yield more robust harvest
Date: August 31, 2022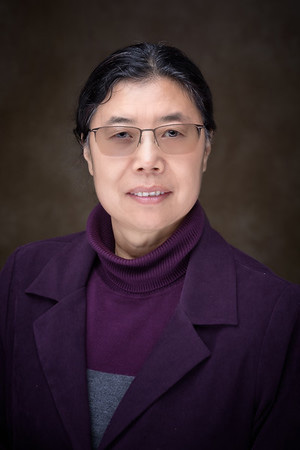 Fayetteville, N.C. — (August 31, 2022) Fayetteville State University's (FSU) Lieceng Zhu, Ph.D., secured nearly $100,000 from the National Science Foundation (NSF) — her third such grant since 2017 — to continue researching the impact of extreme heat due to climate change on wheat's resistance to insects.
Extreme weather due to climate change negatively affects air and water quality; animal habitats and food supplies; and produces volatile, unpredictable and severe weather events worldwide.
Combined with the threat of insects, these conditions seriously jeopardize agriculture crops and further threaten food production and security. Zhu, a professor in FSU's Department of Biological and Forensic Sciences, aims to change that.
Zhu and her team have been researching the impact of extreme heat on wheat's resistance to insects for the last five years with NSF support. She secured an NSF Historically Black Colleges and Universities-Undergraduate Program (HBCU-UP) Research Initiation Award in 2017 of $295,149 to support her project: "Mechanisms of Heat-Induced Loss of Host Plant Resistance to Insects." She has since secured two additional awards — one in 2021 for $499,748 to support her NSF Excellence in Research project: "Phytohormones and Heat-Induced Loss of Wheat Resistance to Hessian Fly" — and this latest installment of $99,888 to supplement and expand the 2021 project. To date Zhu has secured nearly $1 million to advance her research initiatives.
"It's sobering to consider the delicate balance of sun, rain, soil conditions and time needed to yield a successful crop that will help feed the world's seven billion people," Zhu said. "Mitigating the threat of insect infestation on major agriculture food crops, in this instance, wheat, is difficult enough. When harsh environmental factors exacerbate that problem and further threaten the food industry at its source, it's crucial that we identify strategies to protect crops from such environmental factors."
Zhu's research focuses on studying the vulnerability of crop plants to insect pests under high-temperature stress, which will generate knowledge on how and why global warming threatens our agriculture production and food security. The supplemental funding will support the project to expand its scope and conduct experiments to determine how high temperature and application of plant hormones affect overall metabolisms of the wheat plants. The aim is to propagate stronger and more resilient crops that will yield a more robust harvest.
"Dr. Zhu and her research team are conducting cutting-edge research that will have a profound effect on agriculture/food production and food security, especially in at-risk and vulnerable populations," said Monica T. Leach, Ed.D., FSU provost and senior vice chancellor for academic affairs. "She is a superb investigator and an outstanding instructor and mentor for our students, from post-doctoral fellows and undergraduates to aspiring scientists. We are fortunate to have her on our faculty."
Currently, Zhu's team includes a postdoctoral fellow, Mahamed Maldani, Ph.D., two FSU undergraduates, Janaia Jackson and Destiny Capers, and a high school intern Rania Nazir.