FSU Among the Safest Colleges in the Nation
Date: June 14, 2019
Alarms.org has named its safest college campuses in the nation and Fayetteville State University (FSU) is on the list.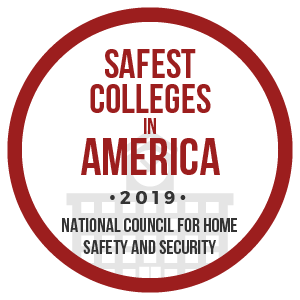 FSU is the safest historically black college and university (HBCU) in North Carolina, the fourth safest in the state, and ranks 119 out of 500 schools in the nation.

To determine who made the list, Alarms.org used data from law enforcement and FBI crime reports and compared 490 colleges (save for those with enrollment under 1,000 students and others for which a significant amount of data was unavailable). Colleges that failed to submit their crime reports with the FBI were also excluded from the research.

For this ranking, they took two variables into account: crime rate and police adequacy. ​When looking at crime rates, a distinction was made between violent and non-violent (property) crime.

"I am pleased with this recognition for Fayetteville State University," said Renarde Earl, Associate Vice Chancellor for Police and Public Safety at FSU. "We take the safety and well-being of our students, faculty, staff, and visitors to our campus very seriously and quite a bit of effort goes into making certain that we provide a safe and secure environment for all."

To view the full rankings and methodology, please visit: https://www.alarms.org/safest-colleges/.

About Fayetteville State University
Fayetteville State University is a constituent institution of The University of North Carolina and the second-oldest public institution of higher education in the state, having been founded in 1867. FSU offers degrees at the baccalaureate, master's, and doctoral levels. With more than 6,300 students, Fayetteville State University is among the most diverse institutions in the nation. To learn more about Fayetteville State University, visit https://www.uncfsu.edu.