Fayetteville State University Students Receive Emerging Leaders Certification
Date: December 05, 2019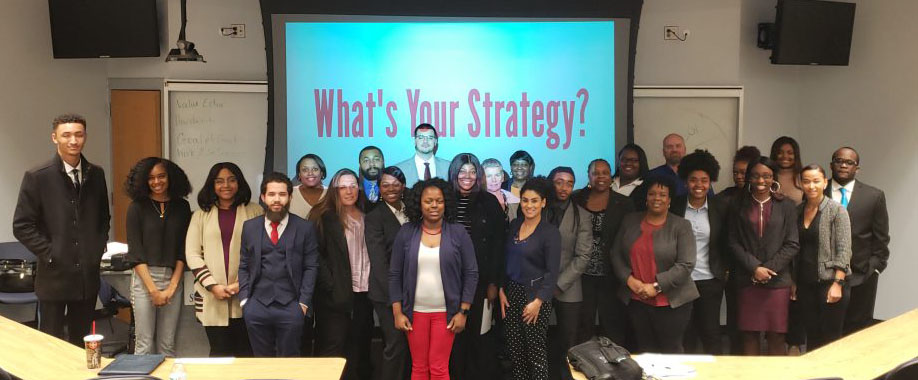 Twenty-Seven students from Fayetteville State University's (FSU) Broadwell College of Business & Economics made history by earning BB&T Emerging Leaders Certification. They are the first at FSU to earn this credential, and join the ranks of about 7,000 undergraduate and graduate students in the nation who have earned it.
The BB&T Emerging Leaders Certification (ELC) program is a highly interactive certification program for college and university students, which focuses on self-awareness to lead others more effectively. Students learn about the beliefs driving their leadership behaviors - both positive and negative - and develop a better understanding of their personal strengths and weaknesses. The curriculum also highlights the relationships between beliefs, motivation, behaviors and results. After completing the program, students are equipped with practical tools and strategies to overcome leadership shortcomings discovered during the sessions and become a more effective leader.
The BB&T Leadership Institute has 55 university partners, now including Fayetteville State, where this certification training is offered. Dr. Tyechia Paul, a new addition to the College of Business & Economics faculty and former corporate trainer, is also certified as an external training facilitator by the BB&T Leadership Institute. As such, she can deliver BB&T Emerging Leaders Certification training at any university with which she is affiliated, at no charge to the university or the students. BB&T values this training at $12,000 per delivery. Essentially, the BB&T Leadership Institute and Dr. Paul have given students a $12,000 in-kind corporate gift of training and certifications.
Dr. Paul directs the Broadwell Leadership Institute (BLI), a new organization within the College of Business. As part of the specialized soft skills training students receive through the BLI, they are required to earn Emerging Leaders Certifications during the academic year. Dr. Paul also made the opportunity available to students who are enrolled in her classes. The next ELC training will be offered in the spring. By completing the full day of leadership training, students earn credential, which is issued by the BB&T Leadership Institute. Once earned, students can add the credential to their resumes and LinkedIn profiles.
---
Students earning the certification are:
Dereka Addison, Frances Brown, Joan Carothers, Helena Cisse Rekaty, Aeriel Coats, Premiere Coston-Haskins, Kadijah DeBerry, Ahriana Edwards, Kayla Glenn, Cori Goode, Chyanne Gordon, Jessica Hathaway, Deaudrea Irving, Ciani Jennings, Rogers Jordan, III, Johnny King, Essence Kirby, Nickolas Kranz, Joshua Lashley, Christian Melendez, Erica Murphy, Adrian Norwood, Jameika Parker, Anyeliz Perez, Pete Skenteris, Adrienne Smith, and Jessica Young.
The BB&T Leadership Institute, an executive and leadership consulting firm within BB&T Corporation, includes a philanthropic branch, the Student Leadership Development Team. The Student Leadership Development Team works with partner schools to certify undergraduate and graduate students as emerging leaders, at no charge to the students or the schools. Dr. Paul established contact with BB&T in 2015 and has been making the certification training available to her students ever since.