FSU Study Finds Virtual Peer Coaches Help Promote Student Success
Findings featured in national newsletter promoting innovative advising practices
Date: August 17, 2022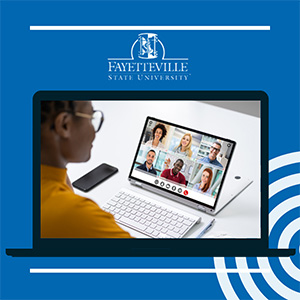 FAYETTEVILLE, N.C., (August 17, 2022) – A new case study finds Fayetteville State University's (FSU) virtual peer coaches initiative helps improve student success in online courses.
The case study, conducted by FSU Associate Vice Chancellor for Student Success and Enrollment Management, Teresa Thompson-Pinckney, Ed.D., follows FSU's virtual initiative, which made peer coaches available to advise and support students in courses with high failure or near-failure rates. The study found that 81% of students agree that virtual peer coaches contributed to their success in the course, and students participating in the initiative had higher success rates than non-participants.
"The pandemic disrupted every facet of traditional learning and challenged our student support systems in ways we couldn't imagine or predict," Thompson-Pinckney said. "At the same time, it compelled us to re-evaluate our traditional approach, improve our understanding of our students' needs and devise innovative and creative ways to address them. Our virtual peer coaching efforts have significantly expanded the depth and breadth of our advising initiatives and provided individualized support for our students to achieve their goals."
As a result of Thompson-Pinckney's findings, the university plans to dedicate institutional funds toward support and expansion of virtual peer coaching; expanding coaching services as a mandatory intervention in all first-year seminar classes; enhancing peer coaches' skills to expand the scope beyond texting to include one-on-one sessions; and integrating student services and data tracking systems to better understand the impact of peer coaching with other interventions.
"Dr. Thompson-Pinckney is a distinguished national leader in student access, support, success programming and best practices in higher education," said Monica T. Leach, Ed.D., provost and senior vice chancellor for academic affairs at FSU. "Her dedication to our students is matched only by her creativity in developing pathways to guide them to and through graduation."
Thompson-Pickney's case study, Expanding Advising During the COVID-19 Pandemic: Virtual Student Success Peer Coaching, was published in Advising at HBCUs: A Resource Collection Advancing Educational Equity and Student Success.
As a participant in the HBCU resource collection, Thompson-Pinckney also has an opportunity to contribute to a new book on Academic Advising and Social Justice. The collection is a three-part resource that looks to highlight best advising practices rooted in a culturally relevant framework that affirms HBCU students and their unique perspectives, lived experiences and need for community connections.