Golden Leaf Awards Grant To Fayetteville State University School Of Nursing
Date: August 17, 2018
Fayetteville State University (FSU) has received a grant from the Golden LEAF Foundation in the amount of $134,200. The grant will be used to support FSU's nationally recognized School of Nursing by enhancing the current simulation lab and furnishing an additional computer lab for student testing.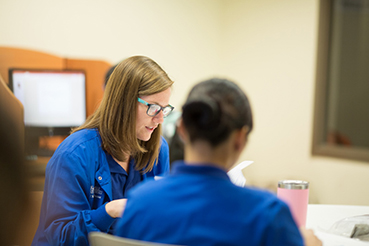 "I thank the Golden LEAF Foundation for its support of Fayetteville State University and the School of Nursing," said Chancellor James Anderson. "A tremendous amount of work has gone into making the school one of the most respected and successful programs in the nation, and this grant from the Golden LEAF Foundation demonstrates that they have recognized those efforts and the work we are doing to address the nursing shortage in this region, state and nation. This funding will go a long way toward enhancing the program and assisting us in achieving our goal of having the top nursing school in the country."

Said Dan Gerlach, Golden LEAF President: "Golden LEAF is pleased to support FSU's School of Nursing. With North Carolina's shortage of healthcare professionals - especially in rural and economically distressed areas - this project aims to make a difference in the number of trained nurses entering the workforce each year. Our funding will help provide simulated training equipment needed to help students obtain the valuable real-world experiences needed to graduate and succeed."

"The grant comes at a critical time in the nursing profession," said Dr. Afua Arhin, Associate Dean of the FSU School of Nursing. According to a recent Georgetown University report, by 2025, North Carolina is projected to have the second-largest shortage of nurses in the nation - a deficit of nearly 13,000.

"Of the 80 rural counties in North Carolina, 70 are currently designated 'medical deserts.' FSU is doing its part to increase the number of BSNs (Bachelor of Science in Nursing) in North Carolina by growing its nursing program. The Golden LEAF Foundation recognizes this important need and is providing $134,200 to FSU School of Nursing to support this growth," Arhin said.

About Golden LEAF Foundation
The Golden LEAF Foundation is a nonprofit organization established in 1999 to receive a portion of North Carolina's funding received from the 1998 Master Settlement Agreement with cigarette manufacturers. For almost 20 years, Golden LEAF has worked to increase economic opportunity in North Carolina's rural and tobacco-dependent communities through leadership in grants making, collaboration, innovation, and stewardship as an independent and perpetual foundation.
The Foundation has provided lasting impact to tobacco-dependent, economically distressed and rural areas of the state by helping create 63,000 jobs, over half a billion dollars in new payrolls and more than 68,000 workers trained or retrained for higher wages. To learn more about the Golden LEAF Foundation, visit www.goldenleaf.org or call 888.684.8404.

About Fayetteville State University
Fayetteville State University is a constituent institution of The University of North Carolina and the second-oldest public institution of higher education in the state, having been founded in 1867. FSU offers degrees at the baccalaureate, master's, and doctoral levels. With more than 6,200 students, Fayetteville State University is among the most diverse institutions in the nation. Chancellor James A. Anderson is the 11th chief executive officer. To learn more about Fayetteville State University, visit https://www.uncfsu.edu.
For more information, call (910) 672-1474 or email jwomble@uncfsu.edu.