Fayetteville State University Graduate Lands Position with Infosys
Date: February 19, 2019
Alexandria J. Carmichael, a 2018 Fayetteville State University (FSU) computer science graduate and current visual arts major, has accepted a full-time position with Infosys.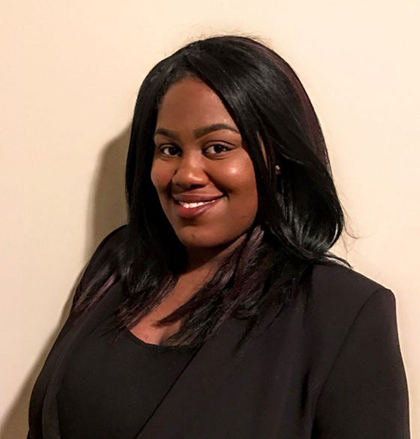 Carmichael was offered an associate position within the company. She will be tasked with supporting and enabling the consulting team in the various phases of project implementation including problem definition, effort estimation, diagnosis, design, and deployment.

Born and raised in Springfield, Mass., and continuing her education in North Carolina, Carmichael has acquired a considerable amount of education in the areas of biology, computer science, and now visual arts. She has actively participated in many volunteer and fundraising events as a member of several organizations at FSU. In maintaining her status as a full-time student while working many jobs throughout her undergraduate years, Carmichael's perseverance and determination have blossomed into a success story.

"Ms. Carmichael never passed up an opportunity to network and would often be the first to RSVP for a recruiting event or employer information session being hosted by CDHS. It is no surprise she has been offered such a great entry level position," said Mose Harris, CDHS Program Manager for Federal Internships.

"Mr. Harris has assisted me with resume writing and has kept me informed about upcoming career fairs in addition to sending out notices about internship workshops and information sessions," Carmichael said. "He paved the way for me to succeed; all I had to do was fight for what I wanted and to never give up."

Infosys currently employs other FSU graduates, and Carmichael has already taken the initiative to connect with them in preparation for her start date. She would like to see more FSU STEM majors receive the opportunity she has been given and intends to assist her new employer in their search for qualified students in this arena. Carmichael will begin her new position in Raleigh on April 24, 2019, following a 10-week training in Hartford, Connecticut while still pursuing her second degree in visual arts.

About Fayetteville State University
Fayetteville State University is a constituent institution of The University of North Carolina and the second-oldest public institution of higher education in the state, having been founded in 1867. FSU offers degrees at the baccalaureate, master's, and doctoral levels. With more than 6,300 students, Fayetteville State University is among the most diverse institutions in the nation. To learn more about Fayetteville State University, visit https://www.uncfsu.edu. Chancellor James A. Anderson is the 11th chief executive officer.