FSU Graduate Students Meet with Legislators in Raleigh
Date: May 20, 2019
Governor Roy Cooper proclaimed May 12-18, 2019 as Graduate Education Week in North Carolina. On May 15, three Fayetteville State University (FSU) graduate students participated in Graduate Education Day in Raleigh.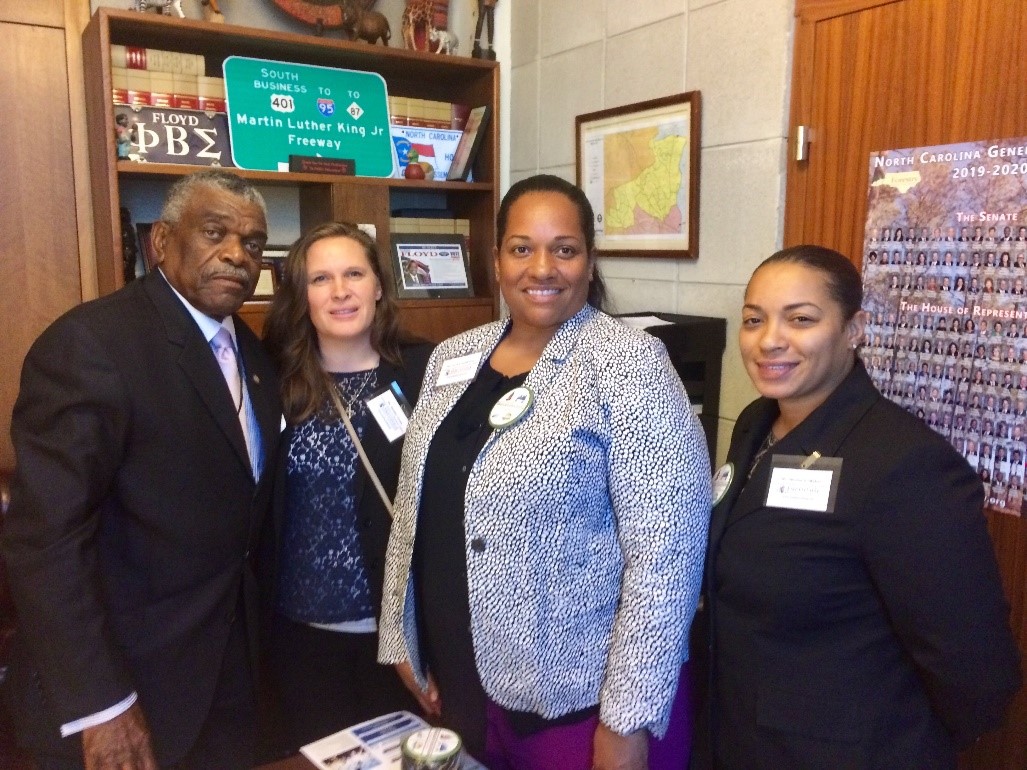 This year, FSU's graduate students represented graduate programs in the College of Education, the College of Arts and Sciences, and the Broadwell College of Business and Economics.

· Jocelyn Smith Gray, a native of Fayetteville and a graduate student in the College of Education, earned her BS in Birth through Kindergarten Education at UNC Pembroke before joining FSU's Educational Leadership doctoral program. Gray's research intends to inform leaders and policy makers of the impact of educational policy on teacher preparation programs in order to prepare individuals to lead, collaborate, and think critically to solve global issues.

· Shontae L. Halsey, a US Army Veteran and graduate student in the College of Arts and Sciences, earned her BS in Criminal Justice and BA in Sociology at FSU before continuing her education in FSU's MA in Sociology program. Halsey's research focuses on the obstacles and barriers to community involvement in North Carolina. She is passionate about her research project, because community involvement is integral to the stability of the community and beyond.

· Heather Vivian, a US Coast Guard Veteran, graduated summa cum laude from FSU with a BA in Marketing before joining the MBA program. Vivian's research examines the economic impact of entrepreneurship education in underserved populations, and she is dedicated to starting more entrepreneurial education programs in high schools and colleges. While working with children in underserved communities in and around Fayetteville, she strives to derive the economic impact of entrepreneurial programs and education in these communities.

After arriving in Raleigh, Graduate Education Day participants learned about the legislative process, advocacy, and collaboration through presentations delivered by Representative Fraley, the UNC-Chapel Hill Director of State Affairs, and the North Carolina Policy Collaboratory Research Director in the Legislative Office Building.

Next, FSU's graduate students and other representatives from FSU, including Dr. Alison Van Nyhuis, the Director of Graduate Council and Program Review, and Mr. Wesley T. Fountain, the Director of Constituent and Community Relations, met with legislators. During Graduate Education Day, FSU's graduate students discussed their research with Representatives Elmer Floyd, Marvin W. Lucas, and John Szoka.

After meetings and lunch with other North Carolina Council of Graduate Schools (NCCGS) representatives, FSU's graduate students and professionals returned to the portico outside the Legislative Building to continue discussions on graduate education in North Carolina. Before returning to campus, Representatives Floyd, Lucas, and Szoka recognized FSU's Graduate Education Day representatives at a House of Representatives session.

For additional information on graduate programs at FSU, please see www.uncfsu.edu/grad.

About Fayetteville State University

Fayetteville State University is a constituent institution of The University of North Carolina and the second-oldest public institution of higher education in the state, having been founded in 1867. FSU offers degrees at the baccalaureate, master's, and doctoral levels. With more than 6,300 students, Fayetteville State University is among the most diverse institutions in the nation. To learn more about Fayetteville State University, visit https://www.uncfsu.edu. Chancellor James A. Anderson is the 11th chief executive officer.