Heath Named FSU Assistant Vice Chancellor for Student Affairs and Dean of Students
Heath brings experience in student achievement
Date: December 05, 2022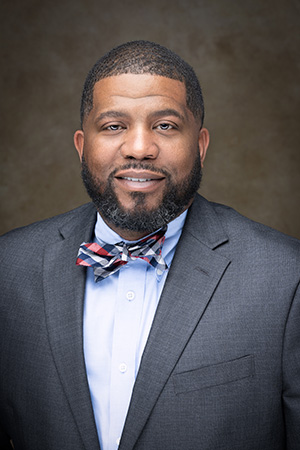 Fayetteville, N.C. (December 5, 2022) — Fayetteville State University (FSU) named Roderick T. Heath, Ed.D., as its new assistant vice chancellor for student affairs and dean of students, effective Dec. 5, 2022.
In his new position, Heath will be responsible for providing leadership, strategic vision and administrative oversight of campus-wide programs, services and operations that create a culture of care focused on increased retention and graduation rates of students.
Before joining FSU, Heath served as director of the Men's Achievement Center & African American Male Initiative at North Carolina Central University in Durham, NC, where he delivered academic, social and personal support to students through an integrated educational approach with an emphasis on research, theory, co-curricular development and experiential learning.
"Dr. Heath brings a wealth of experience and expertise in providing vision, leadership, and strategic direction in promoting student achievement and managing programs that foster student well-being," said Juanette Council, Ed.D., FSU vice chancellor for student affairs. "I am confident that Dr. Heath's student-first mindset makes him the ideal person to create transformative collegiate experiences for our FSU students."
While at North Carolina Central University, Heath also served as a case manager in the Dean of Students office and a male achievement program coordinator in the Division of Student Affairs. Before that, he worked as a student support specialist and graduation coach for Communities in Schools.
"I focused much of my career on finding the best ways to help students be successful," Heath said. "I've seen the different barriers students face and have found ways to help them overcome those barriers. I look forward to bringing my experience to FSU and implementing programs to help all our students achieve their individual goals."