Fayetteville State University Wins $30,000 Home Depot Retool Your School Grant
Date: May 02, 2018
Fayetteville State University (FSU) won $30,000 during the Home Depot Retool Your School Program Campus Improvement Grant Program. The grants awarded from the Retool Your School program give historically black colleges and universities (HBCUs) an opportunity to make upgrades to their campuses.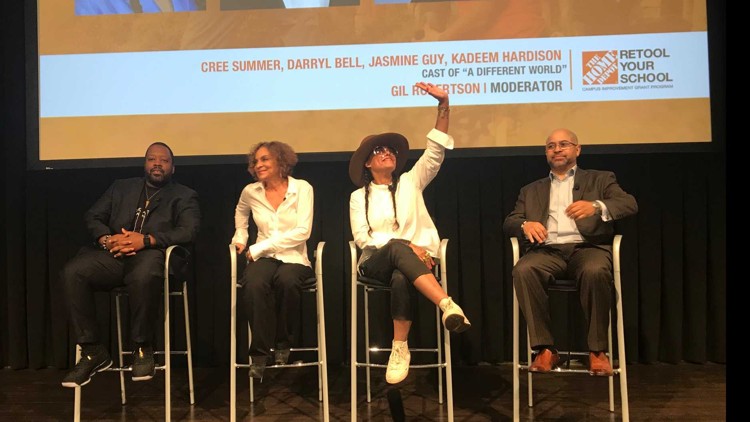 Nine campus improvement grants were awarded. Schools were divided into three clusters based on their student enrollment population. One $50,000 Grand-Prize Grant, one $40,000 second-place grant and one $30,000 third-place grant were awarded in each of the three clusters. All grants were awarded based on the consumer voting and project proposal scores, which were determined by a panel of judges.

FSU was officially named a winner on Monday. The cast members from the syndicated hit sitcom "A Different World" reunited at the Atlanta-based Home Depot's headquarters to help award $360,000 to the nine HBCUs. Greg Moyd, Assistant Vice Chancellor for Student Affairs, and Student Government Association President Elliot Jackson represented FSU.

The $50,000 recipients were Jackson State University, Lane College and Tuskegee University. The $40,000 recipients were the University of Arkansas Pine Bluff, Southern University and Talladega College. The $30,000 recipients were FSU, Claflin University and Livingstone College.

HBCUs were nominated to participate in the program through online consumer nominations. After receiving 100 nominations the schools are invited to enrolled into the program. Schools that are not nominated may still enter the program through school administrator opt-in.

HBCU supporters voted for their favorite HBCUs through social media using the school's designated hashtag or on the Retool Your School website. Voting was unlimited. The top 3 HBCUs with the most votes in each cluster were considered for a campus improvement grant.

FSU will use the grant to enhance the appearance of several courtyards and plazas on campus. Enhancements will include landscaping, lighting, mobile device charging stations, benches, and tables.

Fayetteville State University is a constituent institution of The University of North Carolina and the second-oldest public institution of higher education in the state, having been founded in 1867. FSU offers degrees at the baccalaureate, master's, and doctoral levels. With more than 6,200 students, Fayetteville State University is among the most diverse institutions in the nation. Chancellor James A. Anderson is the 11th chief executive officer.
We have a Cluster 1 winner, and it's @uncfsu! You have won a $30,000 Campus Improvement Grant to Retool Your School. Congratulations! pic.twitter.com/JiArYoPbix

— Retool Your School (@HomeDepotRetool) May 2, 2018