Hyman Nets 24 as Broncos Take a 65-63 Win Over WSSU Rams
Date: January 28, 2020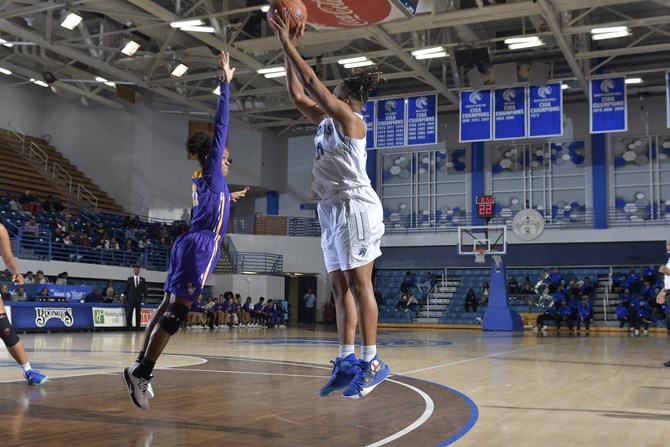 Winston-Salem, NC - Fayetteville State entered a packed C.E. Gaines Center in Winston-Salem, North Carolina and took a 65-63 victory over the Rams in front of 2,750 blaring fans. Katisha Hyman (Chocowinity, NC) dominated the scoring with a game-high 24 points.
The Gaines Center was 80% packed and full of energy from jump ball as the Rams utilized that support to capture a 16-9 first quarter advantage.
Hyman came alive in the second quarter with 15 first half points to lead the comeback effort that resulted in a 33-32 Bronco lead at halftime.
Following intermission, FSU extended its lead to 40-32 with a 7-0 run and led 46-36 by the third quarter media timeout (4:52). The Broncos outscored the Rams 21-13 in the third period to hold a 54-45 edge with one quarter to go.
Taylor Daniels stepped up big for Winston-Sale State with big outside shots (five three-pointers) and a 19-point game. Three other Rams scored double digits to help tie the game in the final minutes of the game. O'Shea Hatley netted 13 points, Kyree Hall scored 12, and Melody Prichard finished with ten.
Fayetteville State shot 78.9% from the line (15-of-19) to help hold off the Rams. Shantel Bennett (Sandford, NC) scored 13 points. Aminata Johnson (Durham, NC) had nine points and London Thompson (Lumberton, NC) finished with eight points and a team-high eight boards.
The Broncos will travel to Saint Augustine's next Saturday (Feb. 1) to take on the Falcons at 2 pm.