Jasmin Sessoms Appointed Interim Director of Alumni Affairs
Date: May 26, 2020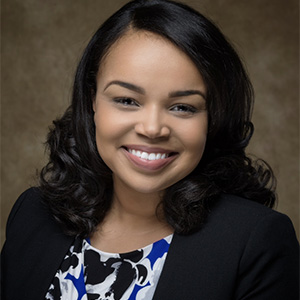 Jasmin Sessoms has been named Interim Director of Alumni Affairs at Fayetteville State University (FSU). Prior to her appointment, Sessoms served as Assistant Director of Development at FSU. Sessoms will report to Dr. Harriet Davis, Interim Vice Chancellor for Institutional Advancement.
"I am excited that Ms. Sessoms will serve in the capacity of Interim Director of Alumni Affairs," Davis said. "She is an alumna of the institution and is familiar with not only university operations, but also has established a rapport with our many constituents. I am certain she will do an outstanding job as we seek to raise the profile of our Alumni Affairs Office and establish even closer times with our alumni and friends."
Sessoms graduated magna cum laude with a Bachelor of Arts Degree in Mass Communications. During her time at FSU, she was a scholarship recipient and was active on campus with the University Concert Choir, The Supplemental Instruction Program, and the Creating High Expectations for Educational Readiness (CHEER) mentor program.
Upon graduation, she entered the workforce as a public relations consultant for a boutique firm in her hometown of Raleigh, NC. She then moved to Washington, D.C., to transition her public relations skills into the world of revenue management at Entertainment Cruises. In January 2019, Sessoms returned to her alma mater as Assistant Director of Development. She currently leads FSU's annual fund campaign and alumni engagement, leading and coordinating class reunions. Her speciality is centered around engaging young alumni.