Clinical Assistant Professor Julia Kane Selected as Faculty Fellow for Invest in Nursing Faculty Fellowship at UNC Chapel Hill School of Nursing
Date: July 09, 2019
Dr. Julia Kane, PhD, RN, WHNP-BC, Clinical Assistant Professor at Fayetteville State University (FSU), has been selected as a Faculty Fellow for the Invest in Nursing (IIN) Faculty Fellowship at the UNC School of Nursing.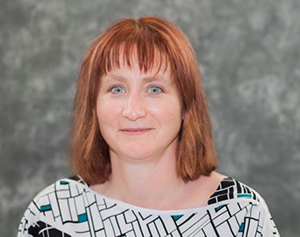 The IIN Faculty Fellowship is part of a larger Health Resources and Services Administration (HRSA) grant aimed at strengthening the primary care nursing workforce. Invest in Nursing focuses specifically on students, practicing registered nurses and nursing faculty through three priority areas: education, practice and retention. The IIN Project invests in the development of a sustainable primary care nursing workforce to practice in community-based primary care teams in rural and underserved settings. One element of the IIN project is focused on developing faculty capacity in leadership, scholarship, and curriculum development.

"In order to expand the pipeline of the nurse workforce, the focus on longer-term education capacity building must be addressed. One strategy for addressing this challenge is through faculty development initiatives to ensure nursing faculty have appropriate ongoing opportunities in leadership, pedagogy, and scholarship. The Invest in Nursing Faculty Fellowship will enhance faculty engagement and capacity for leadership in nursing education, and therefore it is an opportunity to build a network of high-quality nursing faculty." says Dr. Megan Williams, the Principle Investigator on the grant.

The fellowship is a one-year program consisting of on-site visits, distance-based workshops, resources, and an innovative educational project. There will be a combination of group instruction, experiential workshops, networking, and mentorship opportunities aimed at improving the knowledge skills and abilities of nurse faculty around leadership development, relationship-building, understanding self and others, as well as improving educational excellence for research and scholarship.

Program participants remain in their current faculty positions while spending two 2-day sessions throughout the year at the University of North Carolina at Chapel Hill campus in collaboration with the UNC School of Nursing. The first on-site visit will be in August 2019 with a culmination in May 2020.

Dr. Kane was chosen along with seven other nursing faculty across the state from five institutions. Below is a complete list of the 2020 IIN Faculty Fellows:

Clydie Coward-Murrell, MSN-NE, BSN, RN (DNP candidate) UNC-Wilmington
Teri Darnall, DM, MSN, RN, CNE Lees-McRae College
Michelle Hartman, DNP, RN, CPNP Duke University
Julia Kane, PhD, RN, WHNP-BC Fayetteville State University
Lee-Ann Kenny, DNP, MSN, RNUNC-Charlotte
Rhonda Lanning, DNP, CNM, LCCE, IBCLC, RNUNC-Chapel Hill
Heidi Winslow, DNP, MS-NE, RNUNC-Wilmington

This project is supported by the Health Resources and Services Administration (HRSA) of the U.S. Department of Health and Human Services (HHS) under grant number UK1HP31733 Title: Invest in Nursing: An Educational Redesign to Strengthen the Primary Care Workforce for $2,396,978. This information or content and conclusions are those of the author and should not be construed as the official position or policy of, nor should any endorsements be inferred by HRSA, HHS or the U.S. Government.