Virtuosity and Athleticism Equals Family Fun for Le Cirque Esprit Acrobatics Show Sept. 27
Date: September 20, 2018
FAYETTEVILLE, NC (September 20, 2018) – A vivacious blend of circus arts, contemporary dance and live progressive chamber music will come together for an evening of family fun when Le Cirque Esprit makes an appearance as part of Fayetteville State University's (FSU) Seabrook Performance Series (SPS) 7:30 p.m. on Sept. 27th in J.W. Seabrook Auditorium on the FSU campus.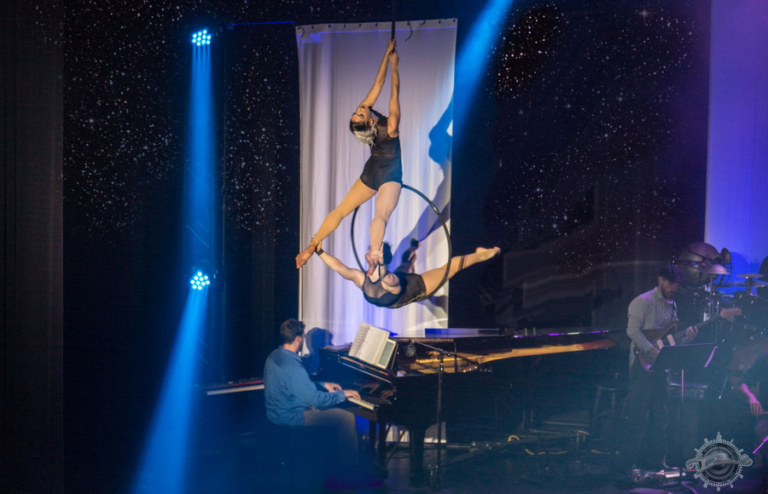 Le Cirque Esprit has established a unique identity in the American circus scene by framing the pioneering contemporary music of cordis under the Boston circus guild's spectacular tapestry of lights, acrobatics and aerial work. The result is a one-of-a-kind event Billboard magazine called "sparkling moments that defy classification."

Cordis is an American progressive chamber music ensemble. The group is known for their ambient textures by fusing an original combination of custom-made and traditional, ethnic instruments to create a signature sound since 2007. The group borders on a gritty rock/punk aesthetic, but because the members are classically trained and steeped in chamber music, the resulting sound is not postured on loud and fast, but rather more developed and cerebral. The group's name is taken from the Latin word for heart.

With a spectacular blend of circus arts, contemporary dance and artsy soundscapes, Le Cirque Esprit offers a family-friendly fun show where children of all ages can expect the unexpected.

Tickets costs $25 to $75. To purchase tickets, visit: uncfsu.edu/seabrook or call 910-672-1724.