Fayetteville State University's Charles W. Chesnutt Library Selected for Traveling Archivist Program
Date: June 12, 2018
Fayetteville State University's (FSU) Charles W. Chesnutt Library has been approved to participate in the Traveling Archivist Program (TAP) by the North Carolina Department of Natural and Cultural Resources.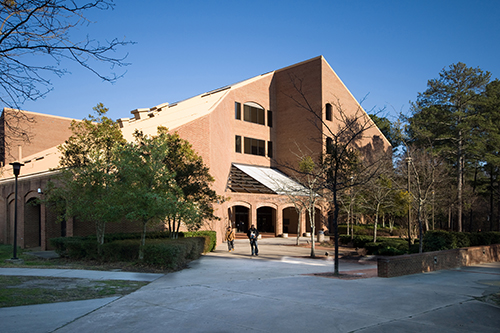 The purpose of TAP is to help repositories improve the preservation of and access of archival collections. TAP was created with funding from the National Historical Publications and Records Commission and is now administered by the State Archives of North Carolina. The TAP program will travel to FSU to bring preservation supplies and to perform a collections assessment, discuss Chesnutt Library's procedures and practices, and offer practical recommendations for best practices in the preservation of and access to the special collections held in the university repository.

About Chesnutt Library
Charles Waddell Chesnutt Library bears a name of renowned distinction. It was named after Charles W. Chesnutt (1858-1932), who was the first successful African-American novelist and who became the second principal of the Howard School, known today as Fayetteville State University.
A staff of qualified librarians, and support staff are available to assist library users. The building, completed in 1987, is a modern four-leveled, contemporary structure, providing more than 70,000 square feet of space that is conducive for study and research. The library offers an array of traditional and innovative services in delivering the resources to you. Many of the resources are available 24 hours day from campus and off-campus sites.
About the North Carolina Department of Natural and Cultural Resources
The North Carolina Department of Natural and Cultural Resources oversees the state's resources for the arts, history, libraries and nature. It's home to the state's 27 historic sites, seven history museums, two art museums, two science museums, three aquariums and Jennette's Pier, 39 state parks and recreation areas. It is also home to the N.C. Zoo, the N.C. Symphony, the State Library, the State Archives, the N.C. Arts Council, State Preservation Office, Office of State Archaeology, the African American Heritage Commission, and the Office of Land and Water Stewardship.

About Fayetteville State University
Fayetteville State University is a constituent institution of The University of North Carolina and the second-oldest public institution of higher education in the state, having been founded in 1867. FSU offers degrees at the baccalaureate, master's, and doctoral levels. With more than 6,200 students, Fayetteville State University is among the most diverse institutions in the nation. Chancellor James A. Anderson is the 11th chief executive officer.
For more information, call (910) 672-1474 or email jwomble@uncfsu.edu.