Fayetteville State University Master of Social Work Program Recognized for Quality and Affordability
Date: February 28, 2019
Fayetteville State University's (FSU) Master of Social Work (MSW) program has made Human Services Edu's 2019 Best MSW Program list. According to Human Services Edu, they assessed hundreds of schools around the nation to find MSW programs to include on its best of the best list.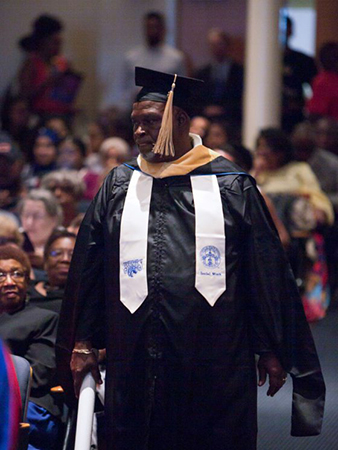 They created this list to help potential students find information about Council on Social Work Education (CSWE) accredited programs and bring recognition to those programs.

CSWE evaluation is an intensive process that ensures accredited programs are providing all the elements necessary to prepare graduate students to become highly skilled, compassionate practitioners when they enter the field. That's why we feel CSWE accreditation is the bare minimum when looking for value in an MSW program.

Human Services Edu said the following about FSU's MSW Program:

"Fayetteville State University is the affordable path to the Master of Social Work, designed to prepare you for advanced social work practice and leadership. But that's not all-this program is the first in the country to collaborate with the U.S. Army to offer a master's degree in social work to active duty soldiers! It's little wonder, then, why Fayetteville State is widely recognized as a top university for veterans. All social work students in this program develop an understanding of the unique needs of service members, citizen soldiers, veterans, and their families. For students who want to take their MSW to the next level, Fayetteville State also offers graduate certificates in Military Behavioral Health, Advanced Clinical Practice, and Substance Abuse Studies that can be completed alongside the MSW. For the best in flexibility, Fayetteville State offers a full-time and weekend/part-time MSW." To learn more about Fayetteville State University's Master of Social Work (MSW) program, visit https://www.uncfsu.edu/academics/colleges-schools-and-departments/college-of-arts-and-sciences/school-of-social-work/master-of-social-work-(msw).

About Fayetteville State University
Fayetteville State University is a constituent institution of The University of North Carolina and the second-oldest public institution of higher education in the state, having been founded in 1867. FSU offers degrees at the baccalaureate, master's, and doctoral levels. With more than 6,300 students, Fayetteville State University is among the most diverse institutions in the nation. To learn more about Fayetteville State University, visit https://www.uncfsu.edu. Chancellor James A. Anderson is the 11th chief executive officer.
Tags:
Graduate Programs
College of Arts and Sciences
News