FSU's MBA Students Aid NCDOT through MBA Certification Program
Date: November 12, 2019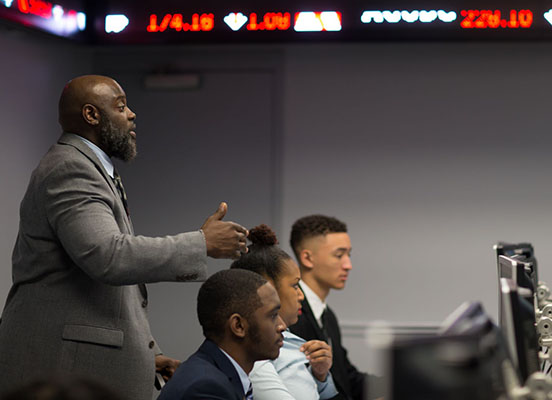 Fayetteville State University's (FSU) MBA Concentration in Business Intelligence and Data Analytics (BIDA), in collaboration with SAS Institute, Inc. provides an opportunity for receiving a SAS Joint SAS Certificate upon the completion of all required courses for BIDA Concentration. One of the courses, BIDA 670 Advanced Analytics Project, has been offered for the first time in spring 2019 and course outcome made a difference at the state level.
A team of three students, Matthew Rogers, Puneet Kumar and Rajeshwar Dutt worked with Dr. Majed Al-Ghandour (Ph.D., PE, CPM, M.ASCE, Assistant Director, Division of Planning and Programming, North Carolina Department of Transportation (NCDOT) and Adjunct Professor at FSU) and Dr. Burcu Adivar (Assistant Dean and Assistant Professor of Management) to help NCDOT find the best location for the new DMV facilities based on the increased demand for Real IDs.
Federal agencies will enforce tougher security standards at airport check-ins, federal buildings, military installations and nuclear sites at the beginning in October 2020. This requirement is posing a challenge against the NCDOT to plan enough locations to handle the increased workload in all parts of the state including urban and rural areas. One of the most important decision-making processes is to optimally locate new physical and mobile locations to address the demand of prospect customers. This is an important concern as these locations will face influx of ID conversion applications to meet the NC Read ID deadlines. FSU BIDA team provided an integrated approach for selecting the optimal DMV locations using expert knowledge, data mining, Analytic Hierarchy Process (AHP), Geographical Information System (GIS) and SAS Software. The proposed approach identified potential new locations according to sixteen criteria through experts' input as part of the AHP process, yielding demographic attributes, flexibility, efficiency, cost and access to public facilities.
The outstanding results of the study has been presented in a special government section at the SESUG 2019 conference in Williamsburg, VA between October 20-22. The presenters, Matthew Rogers and Dr. Al-Ghandour, were allocated one-hour session to share their paper, research methodology, findings and demonstration of using SAS software. It was a great experience for MBA students to network, publish research papers, to see other papers.
Matthew Rogers summarizes his experience: "The SESUG 2019 conference was very enlightening. The ODS graphics workshop did an impeccable job explaining how to write procedures for scatter plots, pie charts, and other graphs, including many visualization options and appearances. I was able to network with other SAS users and the presentations I was able to attend were riveting as well."Rogers also noted that being able to present the capstone project at the conference was an honor that he won't soon forget. Presenting the results and explaining how their subsequent locations were derived provided a great deal of pride in what we were able to accomplish. He noted that Williamsburg, VA, with its rich history, is a beautiful city and the Williamsburg Lodge provided an excellent venue for the conference. He said he felt lucky to have been a part of this capstone team and hopes that future projects prove as rewarding.
For more information about Business Intelligence and Data Analytics graduate certificate and MBA concentration, visit www.uncfsu.edu/bida. For more information on the SESUG 2019 conference proceedings, see www.sesug.org/SESUG2019/index.php.
The SouthEast SAS® Users Group (SESUG) is a Regional Users Group (RUG) for users of SAS Software. SESUG's mission is to serve and support users of SAS software in the southeastern United States through ongoing education, professional development opportunities, and facilitating communication with SAS. These goals are most directly supported by SESUG's annual multi-day conference.
About SAS Institute, Inc.
SAS Institute is a developer of analytics software based in Cary, North Carolina. SAS develops and markets a suite of analytics software, which helps access, manage, analyze and report on data to aid in decision-making. "A trusted analytics powerhouse for organizations seeking immediate value from their data. A deep bench of analytics solutions and broad industry knowledge keep our customers coming back and feeling confident. With SAS®, you can discover insights from your data and make sense of it all. Identify what's working and fix what isn't. Make more intelligent decisions. And drive relevant change."
About Fayetteville State University
Fayetteville State University is a constituent institution of The University of North Carolina System and the second-oldest public institution of higher education in the state, having been founded in 1867. FSU is a historically black university offering degrees at the baccalaureate, master's, and doctoral levels. With more than 6,500 students, Fayetteville State University is among the most diverse institutions in the nation. To learn more about Fayetteville State University, visit www.uncfsu.edu.