FSU's Department of Chemistry and Physics Partners with the Cumberland County Public Library to hold a Medieval Mayhem Catapult Competition
Date: March 06, 2019
Fayetteville State University (FSU) and the Department of Chemistry and Physics is partnering with the Cumberland County Public Library to hold a "Medieval Mayhem Catapult Competition" at FSU's Lilly Gym on April 6, 2019 from 9:00 a.m. to Noon.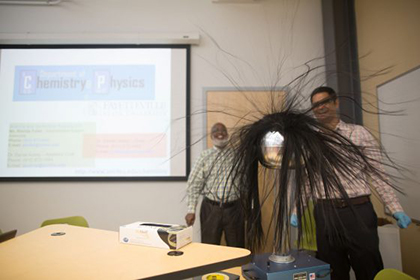 This event will be part of the North Caroline Science Festival. Students in grades 5 through 12 are eligible to participate.

Following the middle and high school competitions, FSU and other area schools will compete in the Collegiate division with larger machines. At the end of the competition, all teams will have a chance to demolish a "castle".

To register teams, call Brittany Newman at the Cumberland County Public Library at 910-487-0440 ext. 1473.
Tags:
College of Arts and Sciences
News