Fayetteville State University Scholar, Historian, and Administrator to Serve as Founders' Day Speaker
Date: March 20, 2019
Dr. Bertha H. Miller, Executive Assistant to the Chancellor for Strategic Initiatives at Fayetteville State University (FSU), will serve as guest speaker for the 152nd Founders' Day on April 2, 2019.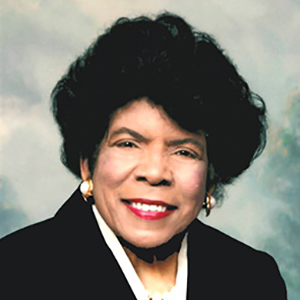 The event will be held at 2 p.m. in Seabrook Auditorium on the FSU campus. The public is invited.

During Founders' Day, FSU's Family of the Year will be honored. Also, there will be a tribute to the founders and E.E. Smith at the Founders' Memorials.

Miller, who will retire this year after more than 30 years of service to FSU and nearly 50 to the UNC System, is known for her analytical, down in the trenches team approach for interpreting standards and guidelines for accreditation, for academic program development, and for successful grant awards. Employing a total management concept, she believes that everyone at the university, which includes faculty, staff, administrators, and students are all responsible for enabling students to achieve to their highest abilities as global citizens and leaders.

Miller served as Dean of the School of Education (SOE), now College of Education, from 1988-1994. The college received accreditation from the State Department of Public Instruction (SDPI) and reaffirmation from the National Council for the Accreditation of Teacher Education (NCATE) in 1990. The School of Education maintained a perfect record in upholding its new Teacher Education Warranty Program, which offered a 100% guarantee for the quality of its teacher education graduates.

Miller served as Interim Vice Chancellor for Academic Affairs from 1994-1996. Under her leadership, strides made in technology included the opening of the Distance Learning Center, new computer labs in academic buildings, and computers in residence halls. FSU received Level V status from the Southern Association of Colleges and Schools (SACS), and in conjunction with Human Resources, the Staff of the Year Program was established as a parallel to the Teacher of the Year program.

As Dean of the College of Arts and Sciences from 1996-2004, Miller continued the strong collaboration with the College of Education and all teacher education programs were granted reaffirmation by NCATE and the state in 2003. During her tenure as Dean, the College of Arts and Sciences received over $17 million dollars in grants and the productivity in research and publications by the faculty tripled. She was a member of the Chancellor's Million Dollar Club for Grantsmanship.

Currently, Miller is Executive Assistant to Chancellor Anderson for Strategic Initiatives. She served as Interim Vice Chancellor for Institutional Advancement in 2011-2012, chair of the Strategic Planning Committee 2015-2020 and chair of FSU's Sesquicentennial Celebration Committee and is Coordinator of activities such as the Chancellor for A Day Program, initiated by Chancellor Anderson in 2009.

Miller represents the university on the NC Civil War History Center Foundation Board and the State Advisory Board. She serves as a consultant for the Visitors Bureau on Historic Trails in Cumberland County, and has been a speaker at Fort Liberty, public schools, churches, civic organizations, and professional associations. Her efforts in the community and with national groups demonstrate that FSU is a major resource for higher education in the region, state, and nation.

Prior to coming to FSU in 1988, Miller progressed from a social studies teacher in Virginia public schools, to Professor of History and Chair of the History Department at North Carolina A&T State University from 1971-84; and to Deputy Director of the Bureau of History for the Michigan Department of State 1985-88. Her credentials also include a B.S. in Social Sciences from Hampton University; an M. A. in American History, Case Western Reserve University; study in West Africa; and a Ph.D. in American/African American History from Duke University. She has several publications on African American history. A native of Roanoke, Virginia, she is married to Bobby Miller, a senior design engineer for the automotive industry.

In celebration of its 30th Anniversary and Women's History Month in 2014, Miller was saluted by Diverse Issues in Higher Education as one of 30 women who have set the standard of excellence in educational leadership. Moreover in 2017 she was recognized by Marquis Who's Who as a recipient of the Albert Nelson Marquis Lifetime Achievement Award for excellence.

For more information, call (910) 672-1474.

About Fayetteville State University
Fayetteville State University is a constituent institution of The University of North Carolina and the second-oldest public institution of higher education in the state, having been founded in 1867. FSU offers degrees at the baccalaureate, master's, and doctoral levels. With more than 6,300 students, Fayetteville State University is among the most diverse institutions in the nation. To learn more about Fayetteville State University, visit https://www.uncfsu.edu. Chancellor James A. Anderson is the 11th chief executive officer.