FSU Students Attend NCCTM Conference, Faculty Honored
Date: November 02, 2018
Five Fayetteville State University (FSU) HBCU Graduate STEM Scholars and two College of Education faculty members attended the 2018 North Carolina Council of Teachers of Mathematics (NCCTM) Conference in Greensboro, NC, November 1-2.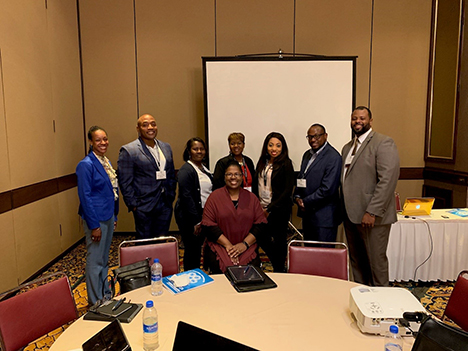 The scholars were Edward Fox, Jennifer Williams, Katrina Tuff, Sequita White and Henry Moore. Faculty members were Drs. Kimberly Smith Burton and Peter Eley.

The 48th Annual State Mathematics Conference of NCCTM offered a great opportunity for our FSU HBCU Graduate STEM Scholars to learn, reflect, collaborate and participate in a premier state-wide mathematics education professional development event. This year's conference theme was "Cultivating Coherence and Connections," which is of great importance at a time of change in the teaching and learning of mathematics.

The North Carolina Council of Teachers of Mathematics (NCCTM) is the professional organization in North Carolina of all persons responsible for the teaching of mathematics. Its membership includes teachers from all levels, kindergarten through graduate school, and other professionals who work with curriculum and materials for the teaching of mathematics.
During the 2018 NCCTM Conference, Dr. Peter Eley received a service award from the Association of Mathematics Teacher Educators of North Carolina (AMTE-NC). AMTE-NC's priorities for 2018 are:

· To educate about and advocate for the role of research and scholarship in mathematics teacher education, with a focus on equity, diversity, and justice and
· To understand the commonalities and differences among policy documents across various organizations that intersect with the work of AMTE

About Fayetteville State University
Fayetteville State University is a constituent institution of The University of North Carolina and the second-oldest public institution of higher education in the state, having been founded in 1867. FSU offers degrees at the baccalaureate, master's, and doctoral levels. With more than 6,300 students, Fayetteville State University is among the most diverse institutions in the nation. Chancellor James A. Anderson is the 11th chief executive officer. To learn more about Fayetteville State University, visit https://www.uncfsu.edu.