Partnerships for Research and Education in Materials Scholar received the best poster presentation award at Emerging Researchers National Conference in STEM
Date: February 12, 2020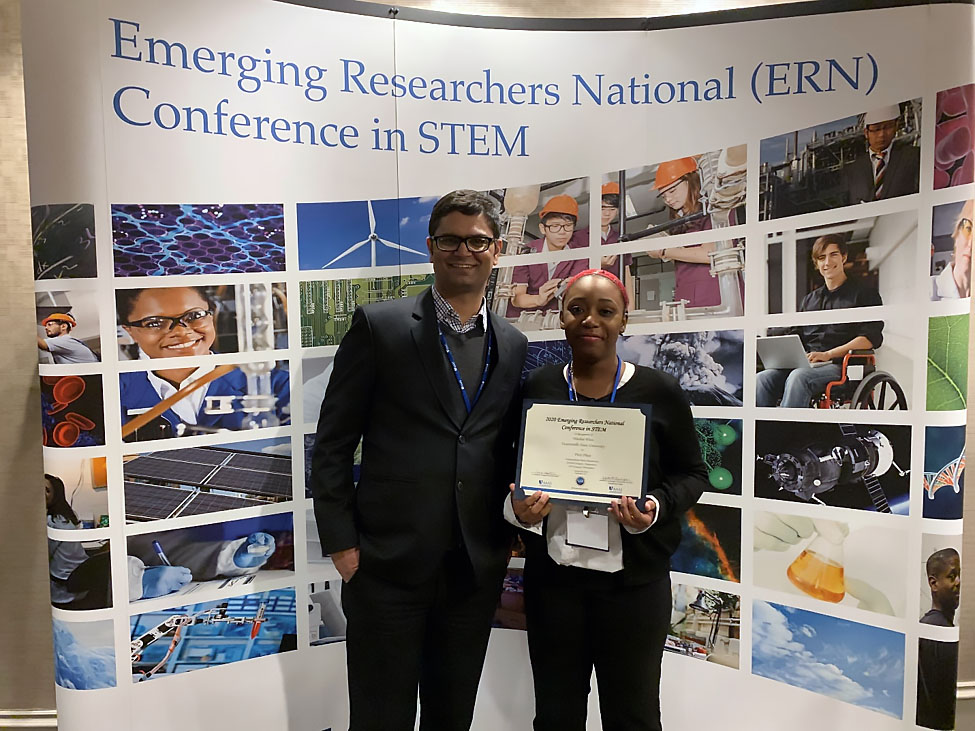 Washat Roxanne Ware, a sophomore chemistry major and Partnerships for Research and Education in Materials (PREM) scholar. Washat received first place in undergraduate poster presentation (nanoscience category) at Emerging Researchers National (ERN) Conference in Science, Technology, Engineering and mathematics (STEM). She also received a $300 cash reward. The conference was hosted by American Association for the Advancement of Science (AAAS) and the National Science Foundation (NSF). The conference was held in Washington DC from February 6-8, 2020. There were 1500 participants including students, faculties and administrators, with about 750 research presentations by undergraduate and graduate students.
Washat presented the research work entitled "Photophysics of Two Dimensional Organic Inorganic Perovskites" at the conference. This work is supported by NSF in collaboration with the Center for High Resolution Neutron Scattering (CHRNS) through award DMR 1827731. Washat is working in Dr. Bhoj Gautam's research group, since October 2018. Her research interest is the study of optoelectronic properties of perovskite and polymer materials for energy technology.
Ten undergraduate students along with Dr. Gibin George and four faculty members: Dr. Daniel Autrey, Dr. Bogdan Czejdo, Dr. Bhoj Gautam, and Dr. Zhiping Luo from Fayetteville State University attended the conference.