Powell Named HBCU Pre-Law Advisor of the Year
Date: May 20, 2019
Benita Powell, assistant general counsel at Fayetteville State University (FSU) and advisor of the FSU Pre-Law Society at FSU, has been named HBCU Pre-Law Advisor of the Year.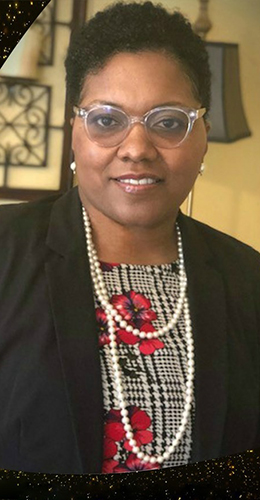 Powell will be honored during the National HBCU Pre-Law Hall of Fame Induction Ceremony and Awards Presentation and Aspiring Lawyers Pinning Ceremony September 21, 2019. The event will be held at Georgia State University's College of Law.

Powell has served as FSU's lead Pre-Law Advisor since 2011. Under her leadership, FSU developed a dynamic pre-law society, an institutional major focused on pre-law, and an interdisciplinary advisory board. Powell believes in mentoring with the holistic aim to achieve leadership, networking, and academic growth. The FSU pipeline program boasts an 86% acceptance rate among pre-law advised students and alumni. Since the inception of the pre-law program, 61 pre-law students have been admitted to law schools around the country. Among the law schools that FSU pre-law students have been admitted to attend are Elon University, Florida Agricultural and Mechanical University, Howard, University, Indiana University, New York Law, University of Florida, University of North Carolina at Chapel Hill, University of South Carolina, Villanova University, and Wake Forest University, to name a few.

Powell currently serves as president-elect of the Southern Association of Pre-Law Advisors (SAPLA). SAPLA is an organization that brings together pre-law advisors and law school admissions staff to provide everyone in the law school admissions process with up-to-date information and expert guidance. Powell will serve a two-year term as President beginning in October 2019.

Powell is a native of Reidsville, N.C. She earned a Bachelor of Arts Degree in Psychology from Duke University. She earned a Juris Doctorate from Washington University School of Law and a Master of Public Health from the University of North Carolina at Chapel Hill. Powell is a licensed attorney in the State of North Carolina. Prior to joining FSU's Office of Legal Affairs, Powell served as general counsel of Health Care Connections, Inc. in Raeford, NC and as an associate attorney for Kilpatrick Townsend and Stockton in Winston-Salem, NC.

To obtain more information about FSU's pre-law program, visit the FSU website.

About Fayetteville State University
Fayetteville State University is a constituent institution of The University of North Carolina and the second-oldest public institution of higher education in the state, having been founded in 1867. FSU offers degrees at the baccalaureate, master's, and doctoral levels. With more than 6,300 students, Fayetteville State University is among the most diverse institutions in the nation. To learn more about Fayetteville State University, visit https://www.uncfsu.edu. Chancellor James A. Anderson is the 11th chief executive officer.