Fayetteville State University Professor Exposes Alpha Academy S.T.E.M. High School Students to Microbiology Research
Date: December 02, 2019
Dr. Danielle Graham, Assistant Professor of Microbiology in the Department of Biological and Forensic Sciences at Fayetteville State University (FSU), hosted Christopher Stinson, STEM director, and 16 ninth grade Student Government Association and 10th grade students from Alpha Academy STEM Institute on Thursday, October 24.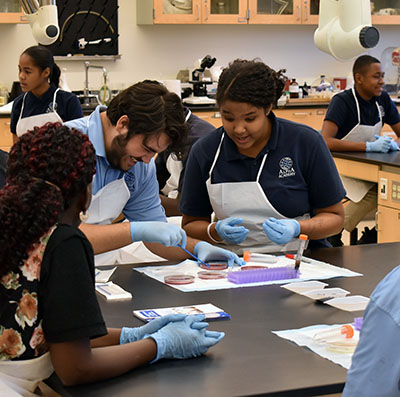 During this half-day event, students attended an interactive presentation to introduce them to the university, its history in Fayetteville and North Carolina, and discuss career choices as a future STEM major. Afterward, students toured the campus and were engaged in a hands-on lab activity in which they performed techniques to isolate bacteria from soil located on the campus.
This project is an extension of Dr. Graham's research at FSU and allows students to gain hands-on research experience, increase diversity in science, and address the worldwide health crisis of antibiotic-resistant bacterial infections. This project is also part of an international collaboration that harnesses the collective power of student researchers across the globe to discover new antibiotics from soil microorganisms. Two Fayetteville State University biology students, Aspyne Silvestro and Deonna Aponte, assisted with the activities. Aspyne stated: "This experience was a great way to blend my love for teaching and science. It was rewarding to be part of an experiment that sparked excitement and joy in up-and-coming STEM students".
Mr. Stinson stated: "Alpha Academy is excited about the partnership with Fayetteville State University, specifically with Dr. Graham. She is an inspiration to our students and went out of her way to make us feel right at home. Dr. Graham also took the time to follow up on the experiments by visiting Alpha Academy. She brought our students the bacteria grown and went over these results in the context of microbiology. We look forward to working with more Fayetteville State staff members to create STEM experiences for our students."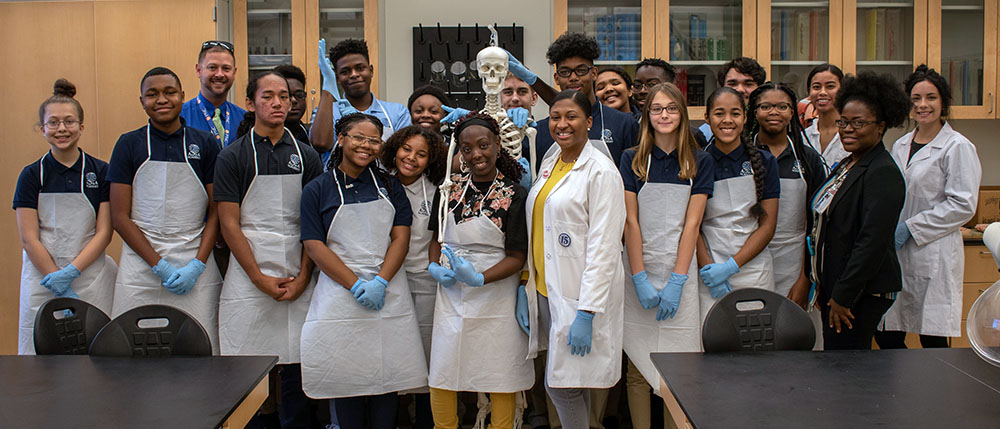 Above: Dr. Danielle Graham and students from Alpha Academy
About Alpha Academy
Alpha Academy is a tuition-free public school serving kindergarten - 10th grades. The mission of Alpha Academy is to prepare students to become outstanding leaders and motivate them to strive for their highest potential through exceptional character and academic achievements, which introduces students to an advanced STEM curriculum.